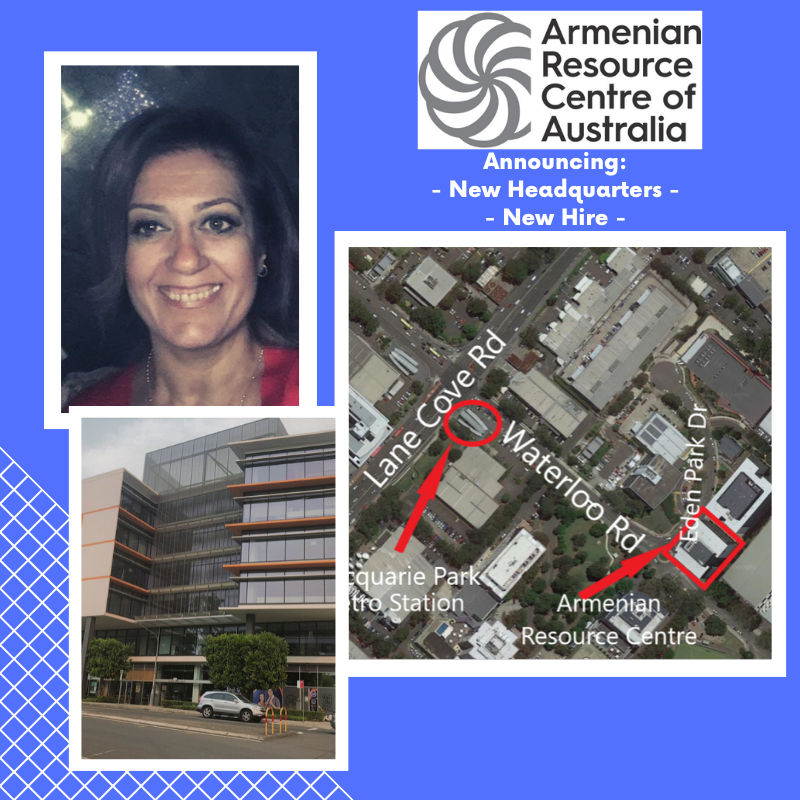 SYDNEY: The Armenian Resource Centre of Australia (ARC-AU) has announced the opening of its new Sydney headquarters in Macquarie Park and confirmed the appointment of Anne Gharibian as Settlement Support Manager.
The new office – located at Suite 522, Level 5, 7 Eden Park Drive, Macquarie Park NSW 2113 – will be fully operational as of 13 January 2020, replacing the current Ryde office of the organisation, which assists migrants with critical services.
The new headquarters is a professional office space with state-of-the-art amenities, within close proximity to Macquarie Park and other major transportation linkages for ease of access.
"After a two-year journey, we are pleased and extremely excited to be moving to our new permanent location," said ARC-AU Chair, Tro Tufenkjian. "This is a great step forward in providing the necessary facilities to cater to the growing needs of our community, and provides a solid foundation for further growth and exciting new initiatives."
The ARC-AU has also confirmed the appointment of Anne Gharibian to the role of Settlement Support Manager. Gharibian will lead the ARC-AU's services from the new headquarters. Her office hours will be by appointment over the festive season. Permanent office hours will be released in the New Year.
"Ms. Anne Gharibian is a highly experienced professional and has been assisting many Armenians with their settlement needs on a voluntary basis for many years," said ARC-AU Vice Chair, Chris Shahinian. "We are pleased and extremely fortunate to have her on board to deliver the necessary services our constituents require to meet their unique needs."
The Armenian Resource Centre assists migrants with services that meet their settlement and social needs. These services include providing support with housing issues, liaising with government services and departments, community integration, student requirements, and more.
Please contact Anne Gharibian by calling 0490 472 606 or emailing 
anne.gharibian@arcaustralia.org
for any inquiries. Alternatively, you can reach out via the "Contact Us" section at 
www.arcaustralia.org
.