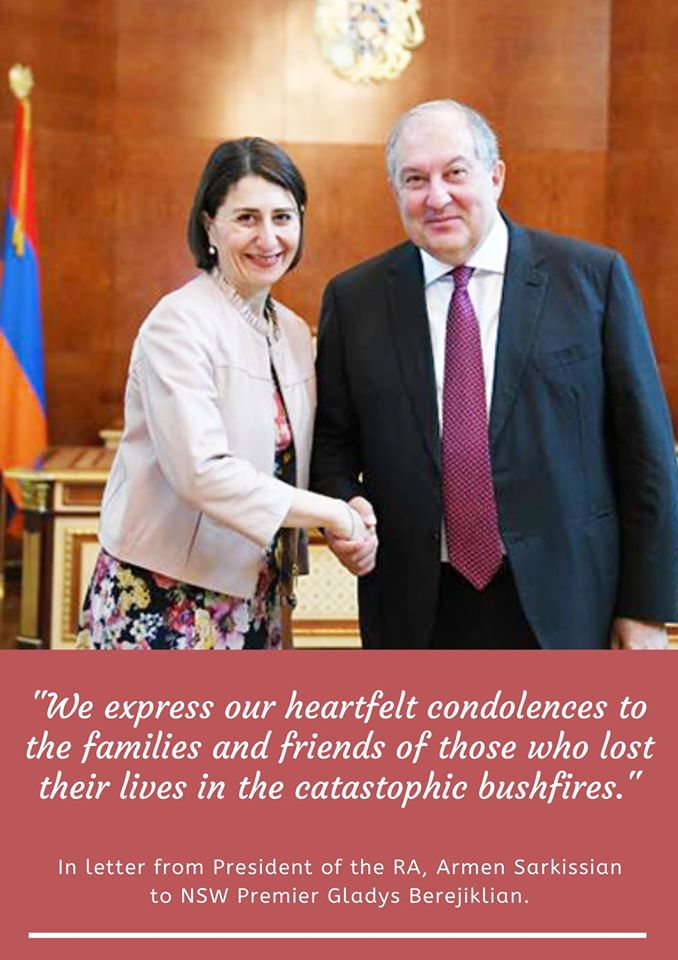 YEREVAN/SYDNEY: Premier of New South Wales Gladys Berejiklian has received a letter of condolences for losses suffered during the devastating Australian bushfires, from the President of the Republic of Armenia, Armen Sarkissian, reported the Armenian National Committee of Australia (ANC-AU).
The state governed by Premier Berejiklian, which is the largest in Australia, has been among the heaviest-hit along with their eastern neighbours in Victoria.
The unprecedented nature of these fires - which have burned a greater area than ever before, raged longer than in any other bushfire season (which is still ongoing) and caused the loss of thousands of homes and dozens of lives - have brought the issue of addressing climate change to centre stage in Australian politics.
President Sarkissian wrote a personal letter to Premier Berejiklian, whom he met in Armenia in 2019, expressing "heartfelt condolences to the families and friends of those who lost their lives".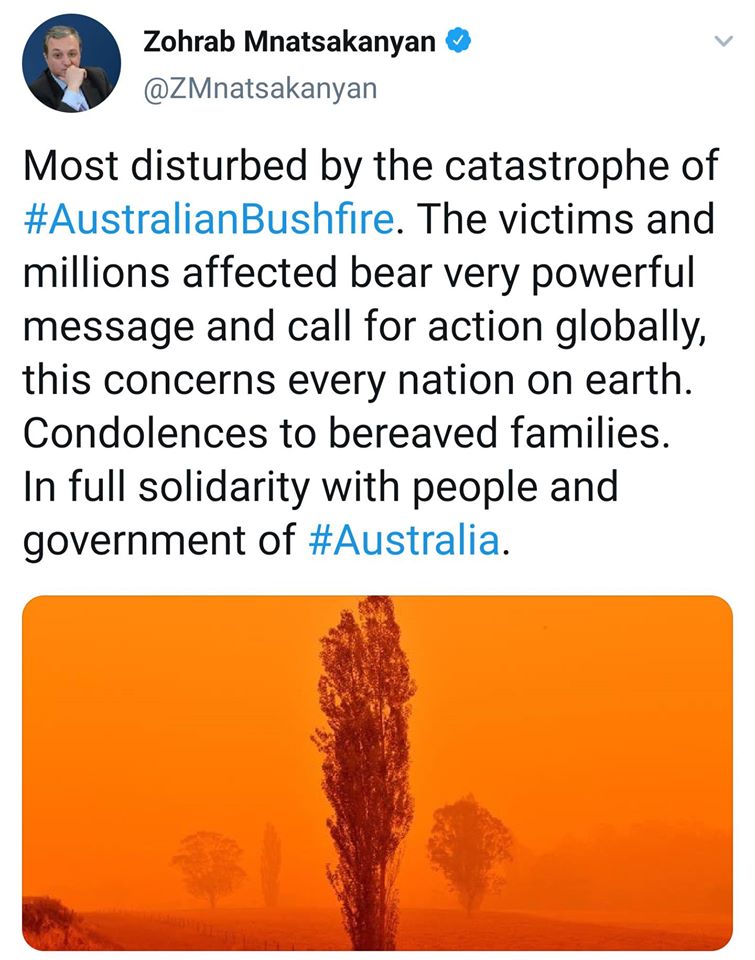 Earlier during the tragedy, Armenia's Foreign Minister Zohrab Mnatsakanyan expressed his condolences and solidarity by Twitter.
The Armenian-Australian community has rallied to support the fire services defending Australia against these fires, with the online and offline fundraiser led by the Armenian Relief Society of Australia so far raising thousands of dollars.
"While it was great to see some rain fall from Victorian and New South Wales skies over recent days, the authorities are advising us that we are not quite out of the woods yet, and more hot weather is around the corner," said ANC-AU Executive Director, Haig Kayserian.
"Our community has so far been fortunate to avoid any forced evacuations in neighbourhoods highly populated by Armenian-Australians, however we have had some of our community living further than the familiar hubs more seriously impacted than most. Our prayers are with those who have lost their lives, their homes, and we hope the rest of the fire season is safe for all, especially the brave men and women fighting fires across the country."
Kayserian added: "We thank the authorities from Armenia for their warm messages, while expressing immense gratitude to those Armenian-Australians volunteering to fight fires and those from the community supporting the Armenian Relief Society of Australia's Australian Bushfire Appeal."
To support the fundraiser, please click here
.