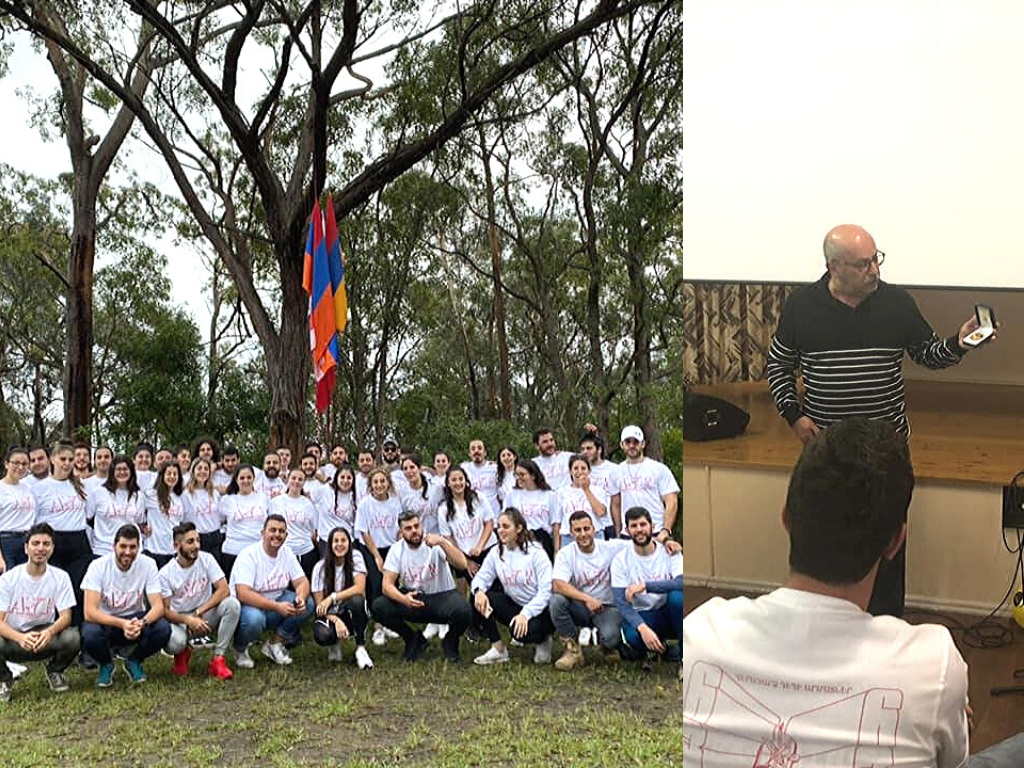 SYDNEY: The Armenian Youth Federation of Australia (AYF-AU) held a Tri-Regional Seminar on 21-23 February 2020, with the participation of all three chapters - Nigol Touman from Northern Sydney, Pegor from Western Sydney and Arapo from Melbourne - in Sydney's Blue Mountains, where the Republic of Artsakh's Representative awarded AYF-AU with the Medal of Artsakh.

With the theme "Return to our Roots" («Վերադարձ Դէպի Արմատներ»), over 45 member Engers and Engerouhees participated in numerous discussions delivered by a number of distinguished guest speakers prominent within the Armenian-Armenian community.

Haig Kayserian - Executive Director of the Armenian National Committee Australia - was the first guest speaker, and presented about grassroots activism as a way to return to your roots, and discussed ways that AYF-AU members can contribute to the Armenian Cause by getting involved in the broader Australian community.

Next was Hagop Boghossian, with his extensive experience working in community and professional life, held a workshop on teamwork. His real-life examples provided members with many tools and lessons to take into their university, professional, and AYF-AU lives.

Marie Soghomonian - CEO of Armenian Children's Fund Australia - shared her experiences in leadership, volunteerism, while starting her own not-for-profit projects in Armenia. Her inspiring story motivated members to take initiative on issues that hold meaning to them.

And finally, Kaylar Michaelian - Permanent Representative of the Republic of Artsakh to Australia - discussed the current situation of the Republic of Artsakh and specifically broke down the discussion between Armenia's and Azerbaijan's leaders at the recent Munich Security Conference.

Michaelian also presented AYF-AU with the prestigious Medal of Artsakh, in honour of the consistent hard work, dedication and support that the Armenian Youth Federation of Australia has contributed to the promotion of the rights of the Republic of Artsakh.

The AYF-AU Central Executive also ran a number of discussions and brainstorming sessions regarding upcoming plans for the year ahead, with topics including Socialism as a political ideology, a review of activities in 2019, and the organisation's upcoming agenda and projects, and how members can be more productive AYF-AU members.

Attendees also participated in numerous games, activities and Olympic-style tournaments, which incorporated and enforced the main themes of the seminar, while promoting camaraderie and teamwork. These activities included bushwalking to a waterfall, a scavenger hunt, mini Olympics, an obstacle course, and other problem solving games.

AYF-AU Central Executive Chair, Aram Tufenkjian said: "It was truly an unforgettable weekend for all our members and, most importantly, it gave all three chapters a valuable opportunity to strengthen bonds and create lifelong ties within our AYF Australia family. It was the perfect way to begin AYF Australia's 2020 program!"