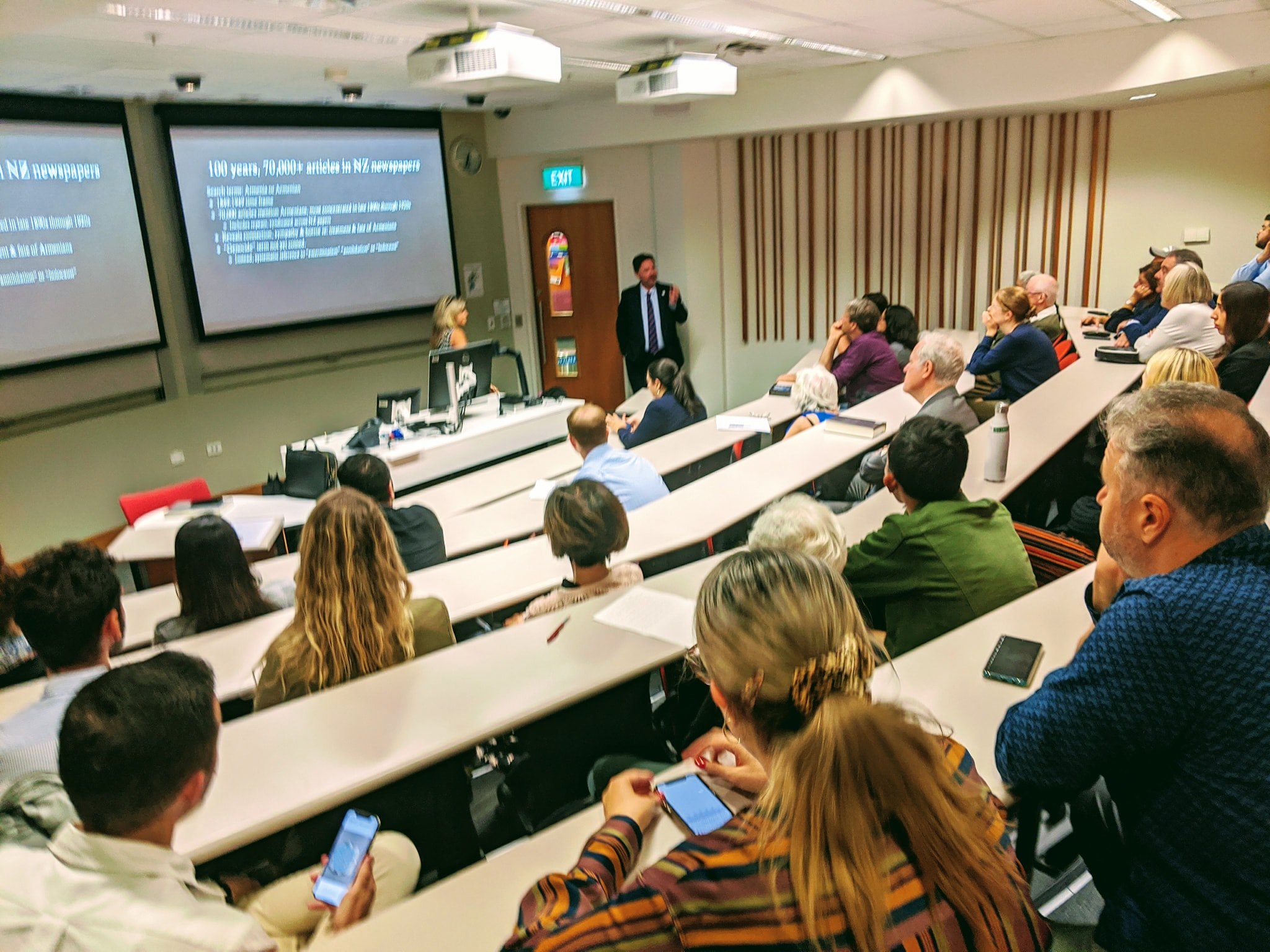 AUCKLAND: An audience of students, academics and members of the public were present at a special lecture at the University of Auckland, covering the Armenian Genocide and New Zealand's relationship with Turkey, reported the Armenian National Committee of New Zealand (ANC-NZ).
The lecture, hosted by the University of Auckland's Europe Institute, was headlined "New Zealand and the Armenian Genocide: What are the Human Rights Costs of Aligning with Turkey?" and presented by Dr. Panayiotis Diamadis of the Australian Institute for Holocaust Studies and Dr. Maria Armoudian – a Senior Lecturer of Politics & International Relations of University of Auckland.
In August 2018, when asked about the Armenian Genocide, Prime Minister Jacinda Ardern commented: "We have always acknowledged the significant, tragic and large-scale loss of life of the Armenian people at the time of the dissolution of the Ottoman Empire."
The lecture covered: "Why has the New Zealand Government been unwilling to call a genocide by name? Though it has commemorated the genocide of Rwanda and the Jewish Shoah, it has not yet acknowledged the Genocides of the Armenians, Assyrians and Greeks, even while New Zealanders worked to rescue survivors and raise funds and awareness of the genocide during World War I and afterwards."
Further, Dr. Diamadis and Dr. Armoudian debunked the Ataturk myth, which revealed the genocidal deeds of Mustafa Kemal.
ANC-NZ Chairperson, Hoory Yeldizian, who moderated the Q & A session, thanked the audience on behalf of the Armenian-New Zealander community, while expressing their appreciation to The Europe Institute, the University of Auckland, Dr. Diamadis and Dr. Armoudian.
"These events are important in informing and educating everyday New Zealanders about the plight of the Armenians, Assyrians and Greeks during the days of the Genocide committed by the Ottoman Empire in 1915," Yeldizian said.