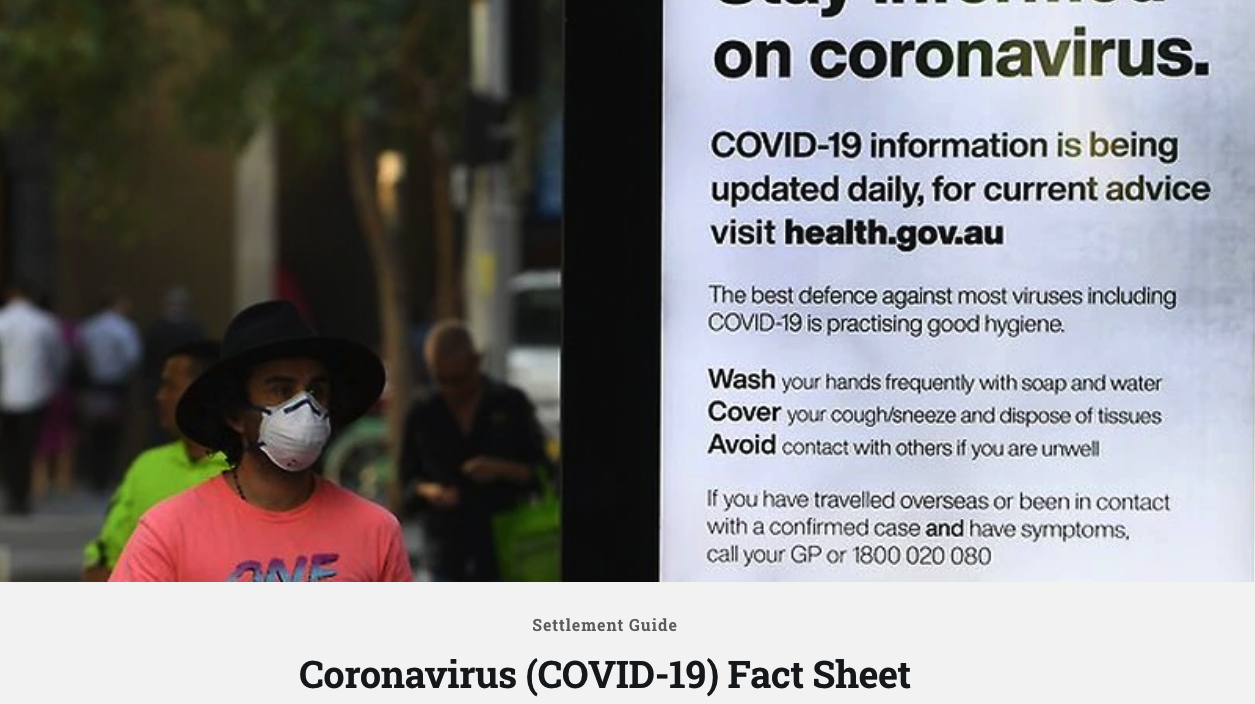 SBS is dedicated to providing trusted reporting that keeps you informed about the COVID-19 outbreak in your language. This fact sheet compiles must-know information for everyone in the community. To read this in Armenian, click here.

NOTE that this fact sheet is regularly updated by SBS Armenian. Keep tabs on the latest by clicking here.

How does COVID-19 spread?

COVID-19 is spread from person-to-person through:
Close contact with a person while they are infectious or in the 24 hours before their symptoms appeared.
Close contact with a person with a confirmed infection who coughs or sneezes.
Touching objects or surfaces (such as door handles or tables) contaminated from a cough or sneeze from a person with confirmed infection, and then touching your mouth or face.

What are the symptoms of COVID-19?
Coronavirus symptoms can range from mild illness to pneumonia, according to the Federal Government's website.
The symptoms of COVID-19 are similar to other cases of colds and flu and include:
Fever
Sore throat
Cough
Tiredness
Difficulty breathing
The authorities have developed a COVID19 Symptom Checker that you can use from home: https://www.healthdirect.gov.au/symptom-checker/tool/basic-details

What do I do if I develop symptoms?
If you develop symptoms within 14 days of arriving in Australia or within 14 days of having contact with someone who has been confirmed with COVID-19, you should arrange to see your doctor for urgent assessment.
Call your doctor to arrange a time or contact the national Coronavirus Health Information Hotline on 1800 020 080. Don't' visit a health clinic or hospital without informing them you have symptoms.
Before you arrive, telephone the health clinic or hospital and tell them your travel history or that you have been in contact with a confirmed case of COVID-19. You must remain isolated either in your home, hotel or in health care until public health authorities confirm that it is safe for you to return to your usual activities.
If you are struggling to breathe or experiencing a medical emergency, call 000.

Should I be tested for COVID-19?
1) You will be tested if:
You have returned from overseas in the past 14 days and you develop a respiratory illness with or without fever.
You have been in close contact with a confirmed COVID-19 case in the past 14 days and you develop a respiratory illness with or without fever.
You have severe community-acquired pneumonia and there is no clear cause.
You are a healthcare worker who works directly with patients and you have a respiratory illness and a fever.
2) You will also be tested if you have a fever or acute respiratory infection and you fit on one of these categories:
all health workers
all aged/residential care workers
geographically localised areas where there is elevated risk of community transmission as defined by the local public health unit
where no community transmission is occurring, high-risk settings where there are two or more plausibly-linked cases, for example:
aged and residential care
rural and remote Aboriginal and Torres Strait Islander communities
detention centres/correctional facilities
boarding schools
military bases (including Navy ships) that have live-in accommodation.
National Cabinet also agreed that testing will be expanded to include hospitalised patients with fever and acute respiratory symptoms of unknown cause, at the discretion of the treating clinician.
This is the minimum testing criteria. States and territories have the discretion to expand their own criteria for testing if they have the capacity.
How is the virus treated?
There is no specific treatment for coronaviruses, but most of the symptoms can be treated with supportive medical care. Antibiotics are not effective against viruses.
Who is most at risk of a serious illness?
Some people who are infected may not get sick at all, some will get mild symptoms from which they will recover easily, and others may become very ill, very quickly. From previous experience with other coronaviruses, the people at most risk of serious infection are:
Aboriginal and Torres Strait Islander people 50 years and older with one or more chronic medical conditions
People 65 years and older with chronic medical conditions. Conditions included in the definition of 'chronic medical conditions' will be refined as more evidence emerges.
People 70 years and older
People with compromised immune systems
How can you help prevent the spread of COVID-19?
Practising good hand and sneeze/cough hygiene and keeping your distance from others when you are sick is the best defence against most viruses. You should:
Not leave your home unless you have to.
Maintain social distance of at least 1.5 metres and observe the 1 person per 4 square metre rule.
Wash your hands frequently with soap and water, before and after eating, and after going to the toilet.
Cover your coughs and sneezes, dispose of tissues, and use alcohol-based hand sanitiser.
If you're unwell, avoid contact with others (stay more than 1.5 metres from people).
Exercise personal responsibility and stay at home as much as possible.

Who is obliged to self-isolate?
1) All people who arrive in Australia after midnight 15 March 2020, or think they may have been in close contact with a confirmed case of COVID-19, are required to self-isolate for 14 days.
2) All travellers arriving in Australia from midnight 28 March 2020, will be required to undertake their mandatory 14-day self-isolation at designated facilities (for example, a hotel).
Travellers will be transported directly to designated facilities after appropriate immigration, customs and enhanced health checks.
ADF personnel will bolster local police efforts in visiting the homes and residences of Australians who are in mandatory isolation as directed by state and territory governments and will report to the local police whether the identified individual was at the residence.
3) If you have been diagnosed with COVID-19, you must stay at home:
do not go to public places such as work, school, shopping centres, childcare or university
ask someone to get food and other necessities for you and leave them at your front door
do not let visitors in — only people who usually live with you should be in your home
Social Distancing (latest update)
Social distancing is one way to help slow the spread of viruses such as COVID-19. The more space between you and others, the harder it is for the virus to spread.
It includes avoiding touching objects or surfaces (such as door handles or tables) contaminated from a cough or sneeze from a person with a confirmed case of COVID-19.
Gatherings limit to two persons
The Australian National Cabinet agreed to limit both indoor and outdoor gatherings to two persons only. These measures are in place since midnight, Monday 30th March.
Exceptions to this limit include:
• People of the same household going out together;
• Funerals - a maximum of 10 people;
• Wedding - a maximum of 5 people;
• Family units.
Individual states and territories may choose to mandate and/or enforce this requirement.
Stay at home
National Cabinet's strong guidance to all Australians is to stay home unless for:
• shopping for what you need - food and necessary supplies;
• medical or health care needs, including compassionate requirements;
• exercise in compliance with the public gathering requirements;
• work and study if you can't work or learn remotely.
Playgrounds, skate parks, etc.
National Cabinet agreed that playgrounds, skate parks and outside gyms in public places will be closed. Bootcamps will be reduced to two persons, including the trainer.
Senior Australians and those with health conditions
Those over 70 years of age and Australians with existing health conditions or comorbidities.
National Cabinet's strong advice is for self-isolation at home to the maximum extent practicable for Australians:
• over 70 years of age;
• over 60 years of age who have existing health conditions or comorbidities;
• indigenous Australians over the age of 50 who have existing health conditions or comorbidities.
What happens if you don't comply with the social distancing regulations will depend on which state you are in.
NSW: Fines of $1,000 or more
Victoria: Fines of $1,600 or more
SA: Police will not be enforcing national directive
ACT: Warning, followed by fine
Queensland: Fines of $1,330 for individuals
WA: Fines of $1,000 for individuals
Tasmania: Capacity to issue fines
NT: Police will not be enforcing national directive
Can I visit family and friends in aged care facilities?
Please note states and territories have specific regulations within their jurisdictions.
As a general rule for all Australia, do not visit aged care facilities if you have:
Returned from overseas in the last 14 days.
Been in contact with a confirmed case of COVID-19 in the last 14 days.
Have a fever or symptoms of a respiratory infection (e.g. cough, sore throat, shortness of breath).
From 1 May you must have had your influenza vaccination in order to visit any aged care facility.
Should I wear a surgical mask?
Surgical masks in the community are only helpful in preventing people who have COVID-19 from spreading it to others. If you are well, you do not need to wear a surgical mask as there is little evidence supporting the widespread use of surgical masks in healthy people to prevent transmission in public.
If you are required to isolate, you should use a surgical mask (if you have one) in the following circumstances:
You need to leave your home for any reason and will be in public areas.
You are visiting a medical facility.
You have symptoms and other people are present in the same room as you.
Travelling from, to or within Australia
Australians must avoid all non-essential domestic travel. States and territories can apply their own restrictions, including closing their state borders. The only states and territories that have not closed their borders are Victoria, New South Wales and ACT.
Australians are restricted from travelling overseas from 25 March 2020, with some exemptions.
Only Australian citizens, residents and immediate family members can travel to Australia. For more information, see the Department of Home Affairs.
All travellers to Australia are required to self-isolate for 14 days, either at home or in a hotel.
If travellers do not comply with their 14-day self-isolation requirements, they may face a range of penalties that exist in each State or Territory.
Go to www.smartraveller.gov.au for further information and updates.
How are the authorities in Australia managing the outbreak?
The Prime Minister has activated the Emergency Response Plan for Novel Coronavirus (COVID-19).
Hardship provisions for energy, water and rates
Authorities are offering flexible payment options to all households and small businesses in financial stress by:
Not disconnecting restricting supply/services to those in financial stress;
Deferring debt recovery proceedings and credit default listing;
Waiving late fees and interest charges on debt; and
Minimising planned outages for critical works.
Those who can continue to pay their bills need to keep doing so - this is critical to ensuring the ongoing viability of essential services providers.
Flexibility for some visa holders
Working holiday visa holders: Exemption from six-month work limitation with one employer, if they work in a critical industry: health, aged care, disability care, childcare, agriculture and food, and will be eligible for a further visa if the current visa is expiring in the next six months.
Seasonal Worker Program and Pacific Labour Scheme participants: will be able to extend their visas for up to one year.
Temporary Skilled visa holders: if they have lost their job, they have 60 days to find another sponsor or leave Australia (even if they have savings or family support)
If they have been stood down but not laid off, or have had their hours reduced, it will not be considered a breach of their visa condition. They can access up to $10,000 in their superannuation funds in this financial year.
International students:
they can stay if they still have a job. If they don't have a job, family support or savings, they might need to consider other arrangements.
International students working in the aged care sector and as nurses are allowed to work more than 20 hours a week.
they can access their superannuation if they've been in Australia for at least 12 months.
Tourists: should return to their home country, particularly those without family support.
Jobseeker payment
To get JobSeeker Payment you need to meet all of these:
you're between 22 and Age Pension age
you meet residence rules
your income and assets are under the test limits.
You also need to meet rules for either of these situations:
You meet the definition of unemployed and you're looking for work.
You're sick or injured and are unable to do your usual work or study for a short time.
For more information check Services Australia https://www.servicesaustralia.gov.au/individuals/services/centrelink/jobseeker-payment
JobKeeper payment
The government will provide a wage subsidy to around 6 million workers who will receive a flat payment of $1,500 per fortnight through their employer, before tax.
The $130 billion JobKeeper payment will help keep Australians in jobs. The payment will be paid to employers, for up to six months, for each eligible employee that was on their books on 1 March 2020 and is retained or continues to be engaged by that employer. Employers will receive a payment of $1,500 per fortnight per eligible employee. The program commenced on 30 March 2020, with the first payments to be received by eligible businesses in the first week of May.
Childcare
Around one million families are set to receive free child care during the coronavirus pandemic. Under the plan, the Government will pay 50 per cent of the sector's fee revenue up to the existing hourly rate cap based on a point in time before parents started withdrawing their children in large numbers. The funding will apply from 6 April.
Domestic violence support
An initial $150 million will be provided to support Australians experiencing domestic, family and sexual violence due to the fallout from coronavirus.
Mental health support
An initial $74 million will be provided to support the mental health and wellbeing of all Australians. The Government's digital mental health portal, Head to Health (www.headtohealth.gov.au), will be a single source of authoritative information and guidance on how to maintain good mental health during the coronavirus pandemic and in self-isolation, how to support children and loved ones, and how to access further mental health services and care.