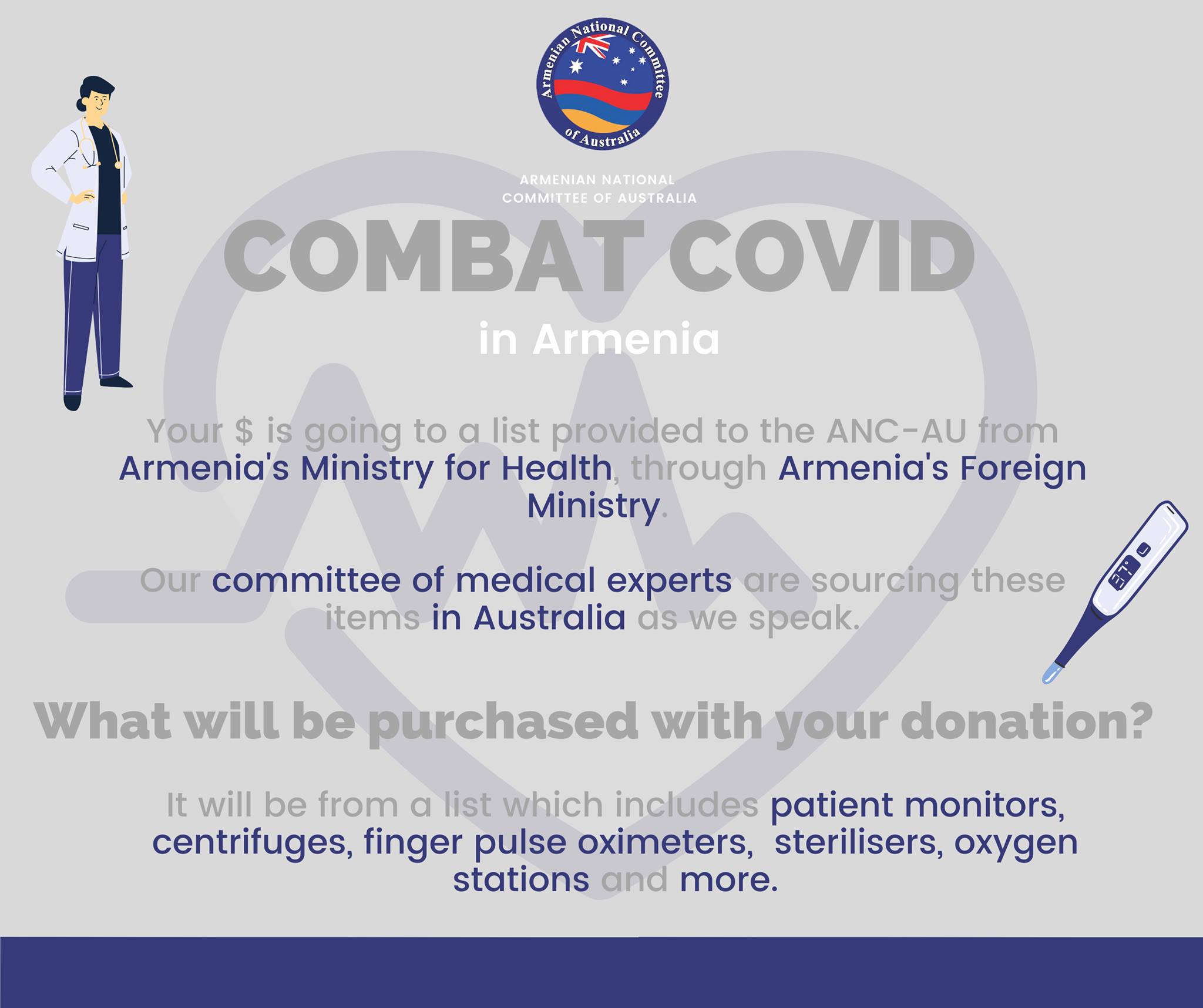 SYDNEY, MELBOURNE: A
"Combat Covid in Armenia"
Facebook fundraising campaign by the Armenian-Australian community has surpassed $20,000 in grassroots donations, and is targeting much more to help ease the burden on Armenia's healthcare system as the country continues to register a growth in confirmed cases of the COVID-19 coronavirus.
The total confirmed COVID-19 case numbers in Armenia have now surpassed 28,000 with 500+ new cases being added to that total on most days.
The Armenian National Committee of Australia (ANC-AU) launched this campaign a week ago, after contacting Armenia's Ministry of Foreign Affairs, who obtained a list of critical medical equipment and supplies being sought from the Ministry of Health. The list includes patient monitors, thermometers, centrifuges, oxygen concentrators, pulse oximeters and more.
ANC-AU has been joined by Armenian Relief Society, Homenetmen Scouting and Sporting Association, Hamazkaine Educational & Cultural Society, Armenian Resource Centre, Armenian Youth Federation and Armenia Media in leading Armenian-Australians on this Facebook fundraising drive, which will raise as much as possible until 17 July 2020.
A group of Armenian-Australian medical professionals are helping to source items from the necessary medical equipment available in the Australian market, which will be purchased and freighted to Armenia.
"We are pleased to say that we have already collected over $20,000 - mostly small donations from over 150 donors on Facebook," said ANC-AU Executive Director, Haig Kayserian. "This initiative has received great support from the wider Armenian-Australian community, and we are now working on increasing our collection."
"More donors and donations will assist us in the easing the burden on Armenia's Ministry of Health further, by purchasing more from their procurement list."
"Transparent reporting will be provided to the community post the distribution of our purchased and freighted supplies and equipment," Kayserian added.
Armenian-Australians are invited to participate by clicking here and then the donate link.

For those who don't have access to Facebook or a credit card, please direct transfer your donation to the following account:
Account Name: Armenian National Committee of Australia
BSB: 062-272
Account Number: 10134724
Should you choose this option, please email your remittance to
admin@anc.org.au
.
If you prefer to phone in with your donation, please call (02) 9419 8264.