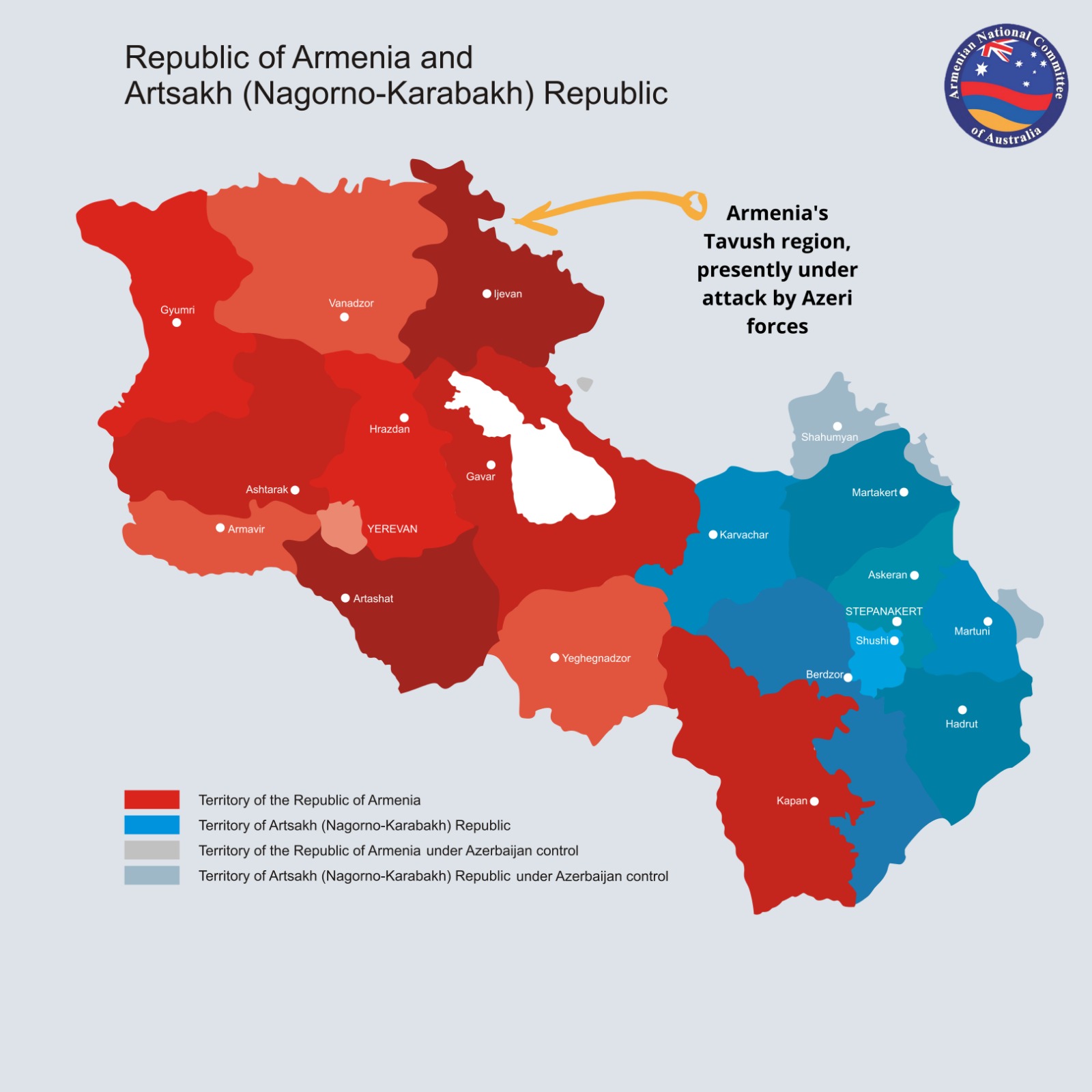 Armenia's civilian population is under attack by the brutal oil-dictatorship of Azerbaijan, who have again ignored their ceasefire obligations and international calls to maintain peace during the COVID-19 crisis.
On 12th July, Azerbaijani soldiers in a military jeep attempted to infiltrate the Armenia-Azerbaijan state border in the Republic of Armenia's eastern Tavush region. After warning shots by Armenian forces, the Azerbaijani soldiers abandoned their vehicle and were allowed to return to their positions. Upon return, Azerbaijani forces used artillery fire to attack the border post of the Armenian Armed Forces, who successfully defended their positions.
This skirmish proved to be the beginning of what has so far been over 48 hours of relentless tank and mortar attacks orchestrated by Azerbaijan and countered by Armenia, resulting in deaths on both sides.
In recent hours, Armenia's civilian population has been targeted by Azerbaijan, namely the villages of Chinari, Aygepar, Nerkin Karmiraghbyur, Paravakar and the city of Berd, where one of two factories attacked includes one manufacturing face masks and PPE equipment to help Armenia combat the major COVID-19 coronavirus crisis gripping the country.
This already constitutes the deadliest escalation since the four-day war of April 2016, being a failed blitzkrieg by Azerbaijan which was not appropriately condemned by the international community.
Adding fuel to Azerbaijan's fire is their big brother, the Republic of Turkey, whose Ministry of Foreign Affairs publicly expressed unconditional support for the attack of the Azerbaijani army against the Republic of Armenia while distorting facts.  This continues the years-long collaboration between the Turkish and Azerbaijani regimes to impose geopolitical and economic isolation on Armenia, and block the rights to self-determination of the Armenian Republic of Artsakh.
When Azerbaijan attacks the innocent indigenous Armenians of the internationally unrecognised Republic of Artsakh, we have sadly become accustomed to global calls for "restraint from both sides", without calling out and holding accountable the transgressing party.
Such inaction has emboldened Azerbaijan to now attack a sovereign neighbouring state. The Aliyev dictatorship is now attacking the Republic of Armenia proper, not the independent de facto Republic of Artsakh (Nagorno Karabakh), and the Armenian National Committee of Australia calls on Australian political leaders and the Australian Government to condemn these attacks and stop Azerbaijan's military aggression.
Azerbaijan must be stopped.
---
Armenian National Committee of Australia
Sydney, 15 July 2020