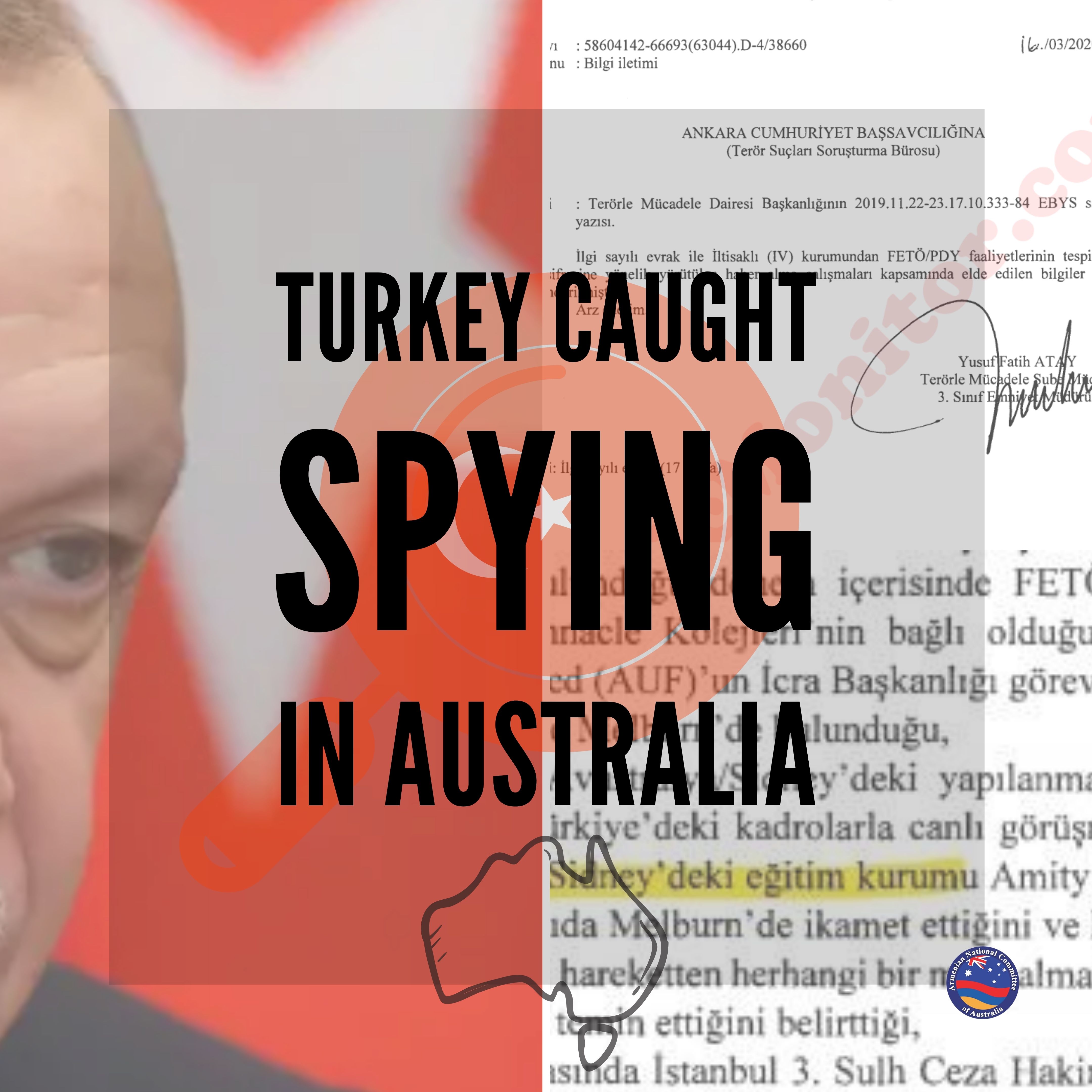 CANBERRA: The Stockholm-based Nordic Research Monitoring Network (Nordic Monitor) has released documents that prove the National Intelligence Organisation of the Republic of Turkey (Milli Istihbarat Teskilati, or MIT) has spied on critics and opponents of President Recep Tayyip Erdogan within Australia's borders.

"In what is likely to be the first confirmed case of MIT espionage in the country, a prominent figure affiliated with a pro-democracy opposition group was targeted in Sydney by agents of Turkey's authoritarian rulers," reported investigative journalist, Abdullah Bozkurt of the Nordic Monitor.

Bozkurt's discovery details notes of local anti-Erdogan conversations being passed onto Ankara from their Sydney-based spies, which prove "the activities of Turkish intelligence operatives in Australia were in violation of the country's foreign interference and counterespionage laws".

The Armenian National Committee of Australia (ANC-AU) expressed deep concerns at these developments.

"In our grassroots efforts advocating for Australia's recognition of the Armenian Genocide, the Armenian-Australian community's efforts have often been frustrated by blatant foreign interference, through bullying via counter-representations made by Turkish diplomats," said ANC-AU Executive Director, Haig Kayserian.

"Now it has been revealed this same autocratic regime, which arbitrarily imprisons journalists, intellectuals and political opponents, is conducting clandestine witch-hunts of those in opposition to their dictator on our peaceful shores."

He added: "Turkey's autocratic leader, Erdogan has consistently used the cover or excuse of 'terrorism' to suppress and oppress his opponents, critics and ethnic minorities in Turkey, as well as in foreign countries. It is concerning that this has now been allowed to occur in Australia and should be called out for what it is."

Australia strengthened foreign espionage laws in 2018 in an attempt to root out outside influence in the political process and ban spying to "advantage the national security of a foreign country". Lengthy jail terms are provided as a disincentive.

To read The Nordic Monitor's report, click here.