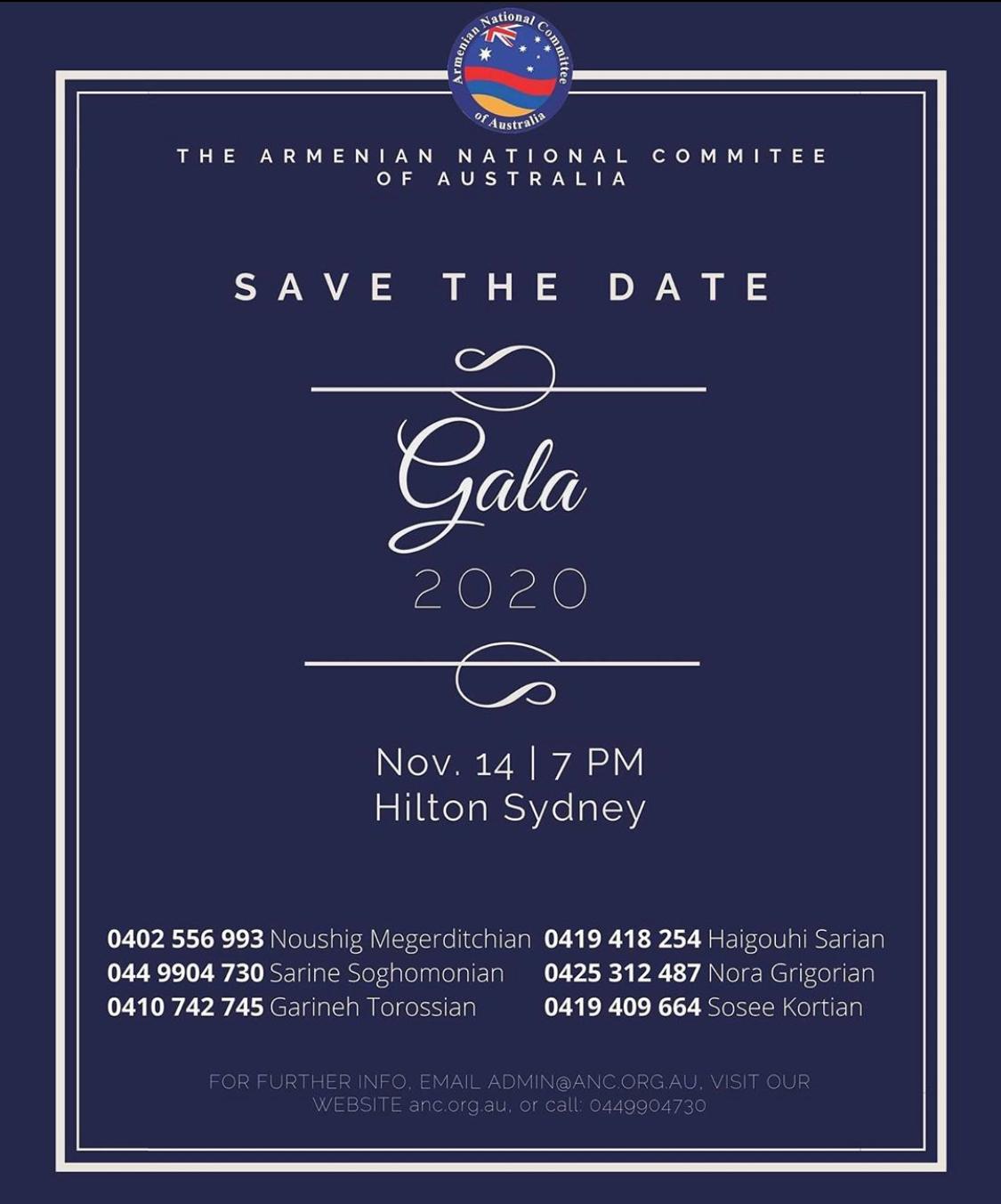 SYDNEY: The Armenian National Committee of Australia (ANC-AU) has announced that its 2020 Annual Gala will be held on Saturday, 14th November 2020 at the Hilton Sydney.

"This event is an opportunity for attendees to reflect and celebrate the Armenian-Australian community's collective public affairs achievements over the past year," said ANC-AU Executive Director, Haig Kayserian. "It is also an occasion for our community to show appreciation for the efforts of prominent people promoting Armenian issues in Australian public life."

This celebratory evening will host honourees from Australian public life and will involve an array of entertainment acts.

The distinguished Armenian National Committee Freedom Award will be presented – with past recipients from around the world including NSW Premier Gladys Berejiklian, U.S. Senator Robert Manendez, Film Director Terry George, German politician Cem Ozdemir, Australian Parliamentarian Joe Hockey, Armenian Studies pioneer Professor Richard Hovanissian, The Uniting Church in Australia, musician Serj Tankian and bestselling author Chris Bohjalian, among others.

ANC-AU will also reveal the 2020 recipient of the prestigious ANC-AU Armenian-Australian Community's Friend of the Year award. Past recipients of this honour include Joe Hockey, Joel Fitzgibbon, Tim Wilson, Trent Zimmerman, Bob Carr, John Alexander, Gladys Berejiklian, Phillip Adams, Jonathan O'Dea, Walt Secord, Paul Fletcher, Michael Atkinson and the late Professor Colin Tatz, among others.

Last year, the ANC-AU introduced the Ben Bagdikian Media Award - recognising those in media who have had the greatest impact raising awareness concerning matters important to Armenian-Australians. Awarded to Alan Jones in 2019, who was Australia's highest-rating radio broadcaster, this event will reveal the 2020 recipient.

This will be a COVID-19 safe event. The Hilton Sydney has therefore limited attendance and seating. To secure your spot, contact one of the committee members on the flyer or purchase your tickets online at: https://www.trybooking.com/BKEXD.