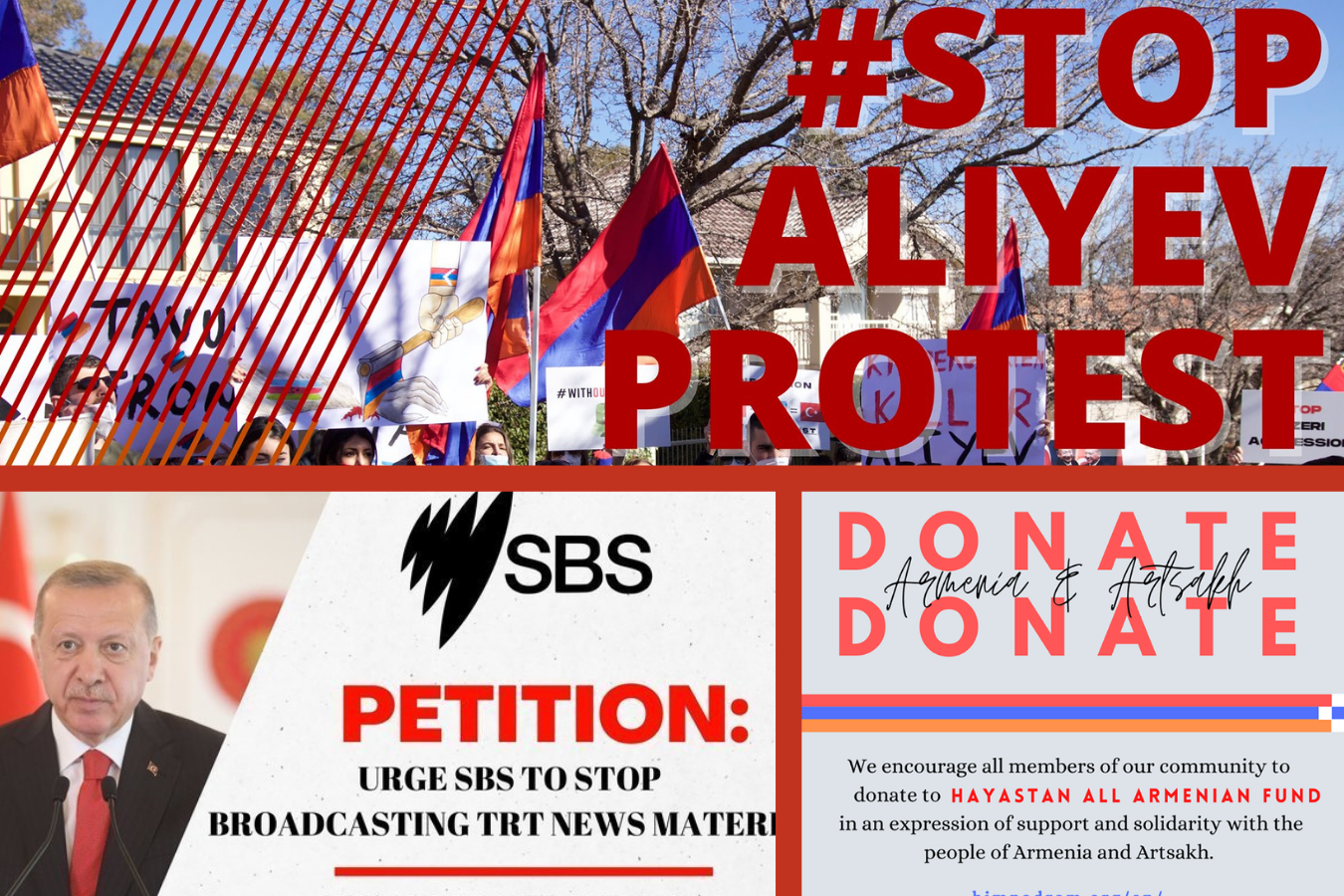 On September 27th, Azerbaijani troops attacked the entire length of the line of contact between Artsakh and Azerbaijan, breaching the ceasefire agreement. Men and women from Atrsakh, Armenia and surrounding countries have been sent to the frontline to defend the border.
Recent Warfare Updates:
Azerbaijan has been shelling Artsakh's capital Stepankert with heavy rockets for the last few hours.

According to the Artsakh Ministry of Defence, 51 people died during battle yesterday, raising the total number of Armenian's martyred to 208

The President of the Artsakh Republic, Arayik Harutyunyan personally headed to the frontlines to help defend the border.

Azerbaijani Forces struck Stepanakert with 3 heavy missiles. One of them hit Artsakh's electricity network and has caysed the capital city to lose electricity.
As Armenian-Australian's, there are many ways that we can help the Homeland while on the ground in Australia.

1. Raise awareness by posting on social media

Follow official sources on Twitter, Facebook and Instagram, and post/share accurate information with your followers. A list of official accounts to follow can be found at the end of this article.
Watch this video prepared by AYF Australia that shares how to counter Azeri propaganda on social media, especially on Twitter.


2. Attend the #StopAliyev Protest in Canberra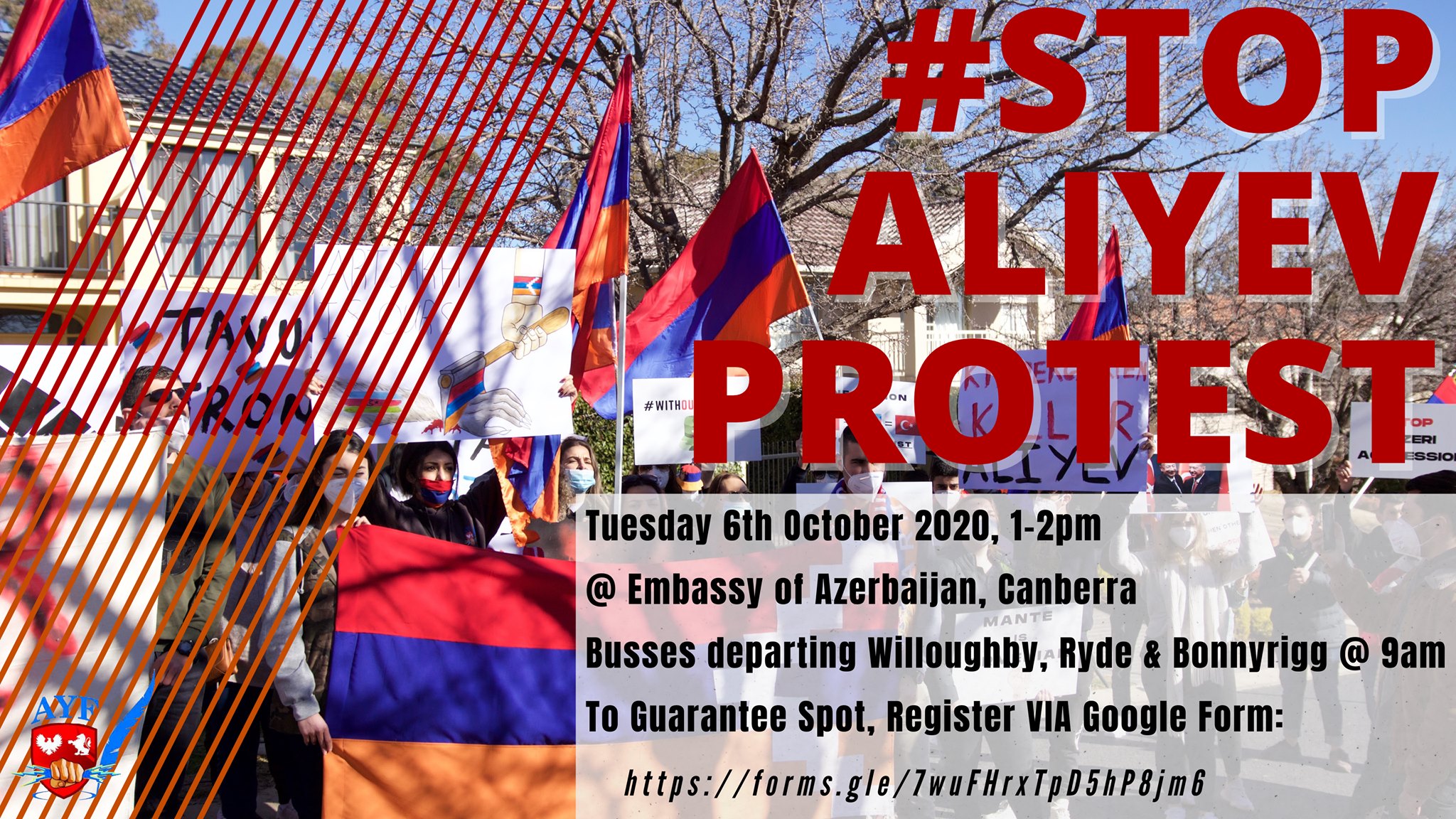 The #StopAliyev protest will be held at Azerbaijan's Embassy in Canberra on October 6th at 1pm.
Return buses from Sydney have been organised. Due to Covid restrictions and limited bus spots, protestors must register their attendance by filling out a form which can be found by clicking
here.
3. Sign the petition urging SBS to stop boradcasting TRT News in Australia
SBS televises a daily direct relay of a half-hour news bulletin from the Turkish Government operated TRT (Turk Radyo Televizyon) in Australia. These broadcasts include offensive and provocative statements against Armenia and Armenians.
Sign the petition to urge SBS to stop broadcasting TRT News in Australia by clicking here.
4. Become an ANC-AU First Responder
The objective of the ANC-AU First Responders Program is to provide our community with the opportunity to strategically reach out to Members of Parliament, Senators, media and other public figures to advocate for matters of public importance.
Artsakh and the Turkish-backed attack by Azerbaijan are the current priority. If you are willing to raise your voice and be heard, email admin@anc.org.au or complete the Google Form here.
5. Donate to Himnadram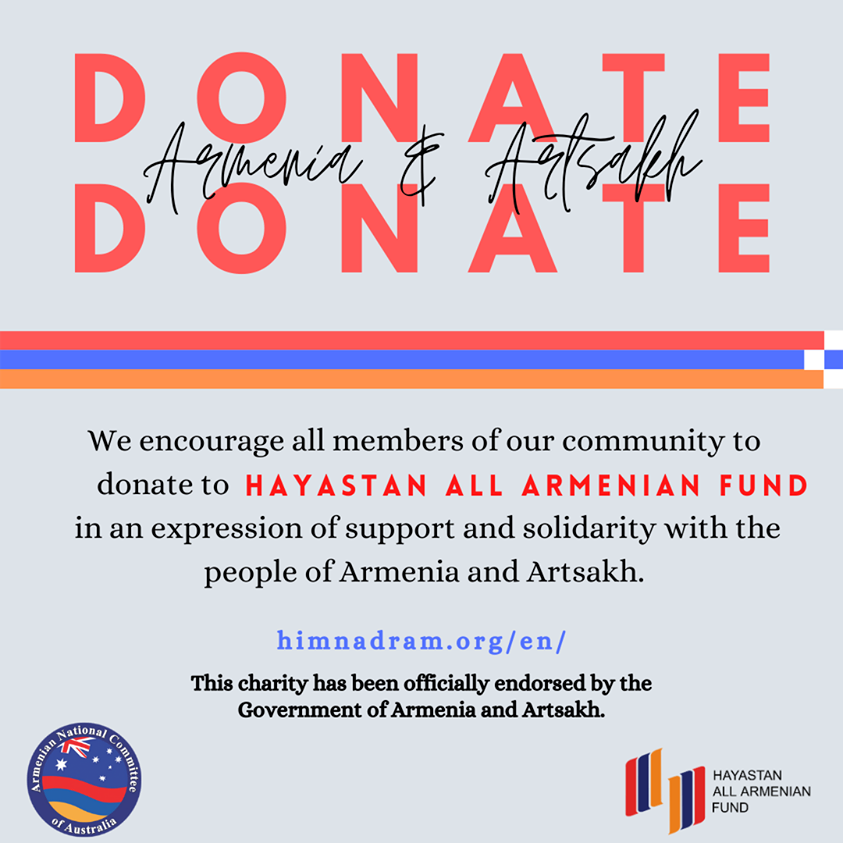 If you wish to express your support, please donate to Hayastan All Armenian Fund at www.himnadram.org/en/. This charity has been officially endorsed by the Government of Armenia & Artsakh.
Official sources to follow:
Arayik Harutyunyan
– President of the Republic of Artsakh
Twitter: @Pres_Artsakh
Facebook: Արայիկ Հարությունյան Arayik Harutyunyan
instagram: president_arayikharutyunyan
Shushan Stepanyan
– Press secretary of the Minister of Defence of Armenian
Twitter: @ShStepanyan
Facebook: Shushan Stepanyan
Armenian Unified Infocenter
– By the Armenian Government to provide reliable and up-to-date info during emergency situations.
Twitter: @ArmenianUnited
Facebook: Armenian unified infocenter/Հայկական միասնական տեղեկատվական կենտրոն
MOD of Armenia
– The official account of the Ministry of Defence of the Republic of Armenia
Twitter: @ArmeniaMODTeam
Facebook: ՀՀ պաշտպանության նախարարություն / MoD of the Republic of Armenia
Artsrun Hobannisyan
– Head of Military Education Department of MOD of the Republic of Armenia 
Twitter: @arcrunmod
Instagram: artsrunhovhannisyan_offical
Armenian National Committee of Australia (ANC-AU)
– The peak public affairs representative of the Armenian-Australian community
Twitter: @ANCaustralia
Facebook: Armenian National Committee of Australia 
Instagram: anc_au
Zartonk Media
– An independent Armenian multimedia outlet
Twitter: @ZartonkMedia 
Facebook: Zartonk Media
Instagram: zartonkmedia
The Armenian Report
– Trusted Armenian news source in English
Twitter: @armenianreport
Facebook: The Armenian Report
Instagram: thearmenianreport