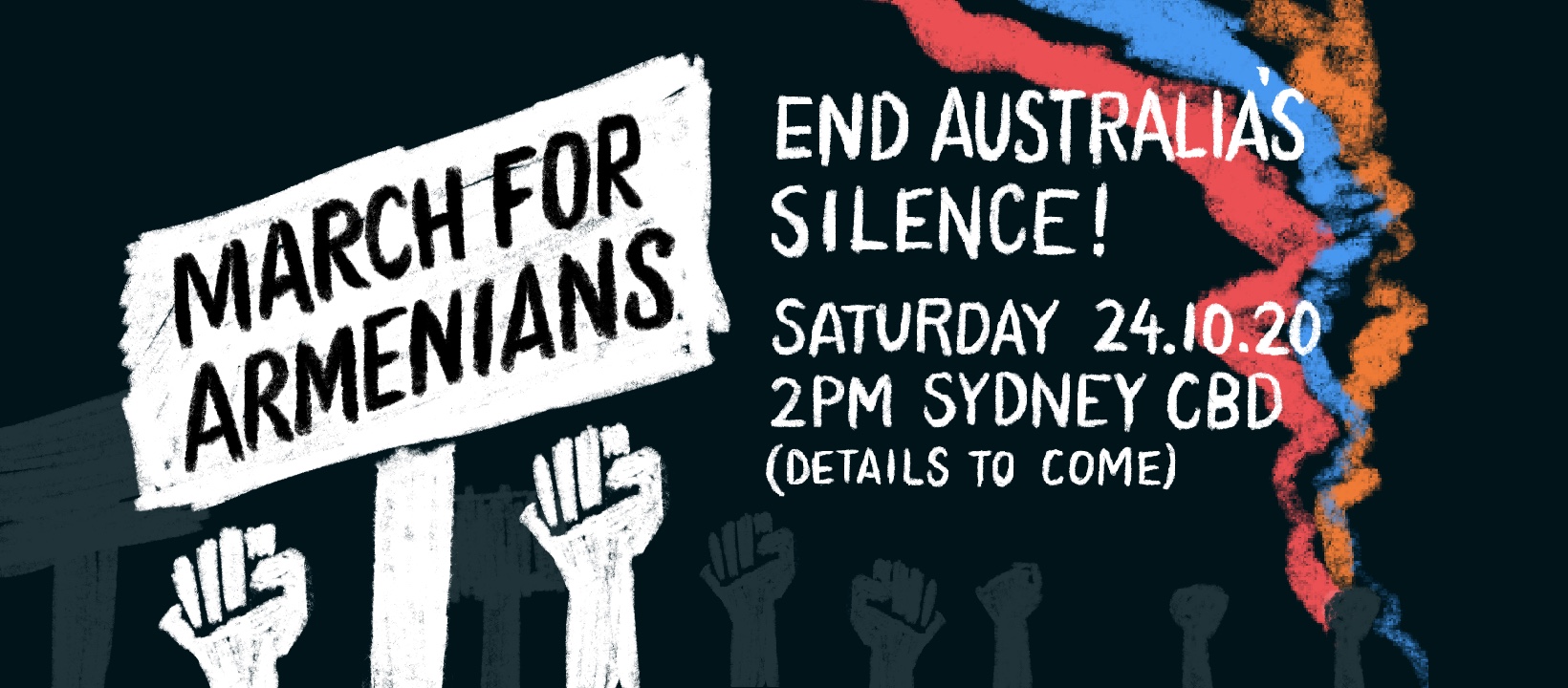 SYDNEY: On Saturday 24th October at 2pm, a massive number of Armenian-Australians and supporting communities will participate in the 'March for Armenians' through Sydney city, in solidarity with their brothers and sisters under attack in Armenia and Nagorno Karabakh (Artsakh) by Turkey-backed Azerbaijani forces. They will be calling on Australia to end their silence on the issue.
Since 27th September 2020, both Armenian Republics of Armenia and Artsakh have been subjected to incessant civilian-targeted bombings and a series of war crimes, resulting in hundreds of deaths and thousands of casualties in what is an impending humanitarian disaster.
From 2pm on Saturday, Armenian-Australians will begin a protest march at a Sydney CBD location to be confirmed, before beginning a program which will feature speeches, singing and chanting, as those in support of Armenians are invited to rise with one voice.
Different demonstrations have recently been held across Australia, in
Canberra
,
Perth
, and
Sydney
. There are also petitions calling on
SBS
to immediately stop broadcast of Turkish state media channel TRT and for Prime Minister
Scott Morrison
to join other world leaders such as President Macron (France) and Prime Minister Trudeau (Canada) in condemning Turkey and Azerbaijan's attacks on innocent Armenian men, women, and children through violations of international law.
"As we have seen throughout history, failure to call out and condemn an aggressor and an enabler out by name – especially when they are bombing civilians and openly threatening ethnic cleansing – only emboldens said aggressor to continue committing war crimes," said Armenian National Committee of Australia Executive Director, Haig Kayserian.
"We often say 'never again' when remembering the Armenian, Assyrian and Greek Genocides of 1915. Never again means Australia must stand against ethnic cleansing and genocide, Australia must stand against dictatorships, Australia must stand against Neo-Ottoman Pan-Turanist expansionism."


"Never again means Australia must stand for democracy, Australia must stand for indigenous rights, Australia must stand for self-determination, Australia must stand for freedom. Therefore, n
ever again means Australia must stand for the independent, Armenian Republic of Artsakh," Kayserian added.
The organisers of the March for Armenians, which will be led by the Homenetmen Scouts Marching Band, political figures and leaders of communities and faith, promise the Armenian-Australian community will "send a loud message" in Sydney on Saturday.
"Australia cannot remain silent and sit on the fence while Armenians are being murdered and their homeland is being ripped apart. It must act with the same humanity and resolve as it did when it came to the aid of survivors of the Armenian Genocide a century ago," Kayserian said.
"The offering of false equivalence to the aggressors and defenders of the war by the Australian government and media have served to embolden Aliyev's and Erdogan's twin Neo-Ottoman dictatorships, and we will make our disappointment clear with one voice on Saturday."
As part of the March for Armenians' comprehensive Covid plan – which includes free bus transport for participants, free face masks, temperature checks, social hygiene and distancing – requires the pre-registration of all protestors by clicking
here
.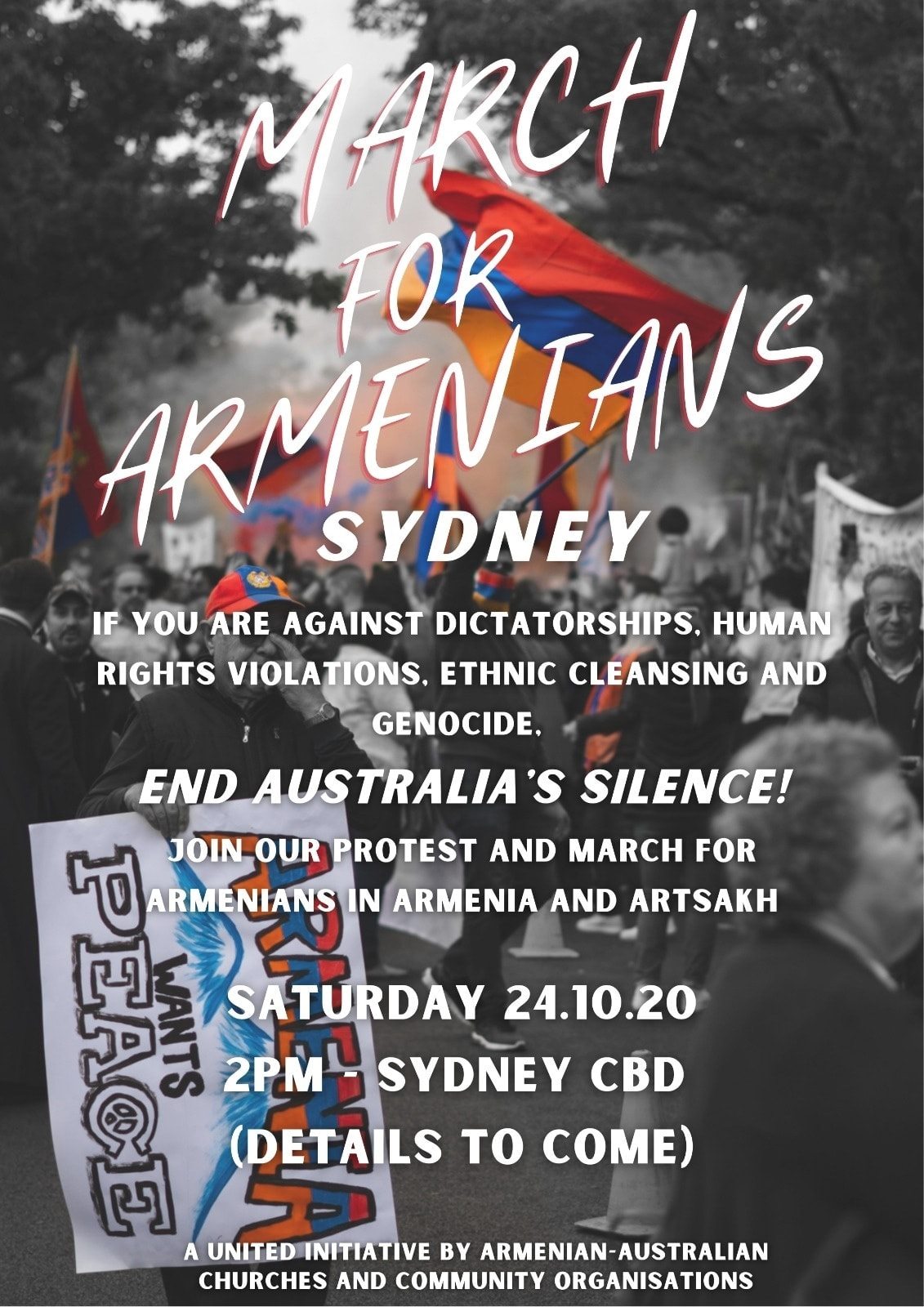 The organisations leading efforts for the March for Armenians include the Diocese of the Armenian Apostolic Church of Australia, the Armenian Catholic Church of Australia, the Armenian Evangelical Church of Australia, the Social Democrat Hunchakian Party, the Armenian Revolutionary Federation, the Armenian Democratic Liberal Party, the Armenian General Benevolent Union, Hamazkaine Cultural and Educational Society Australia, Nor Serount Cultural Association, Homenetmen Scouting and Sporting Association, Tekeyan Cultural Association, Armenian Relief Society, Armenian Missionary Association of Australia, Armenian Dkhrouni Youth Association, AGBU Youth, Armenian Youth Federation and the Armenian National Committee of Australia.