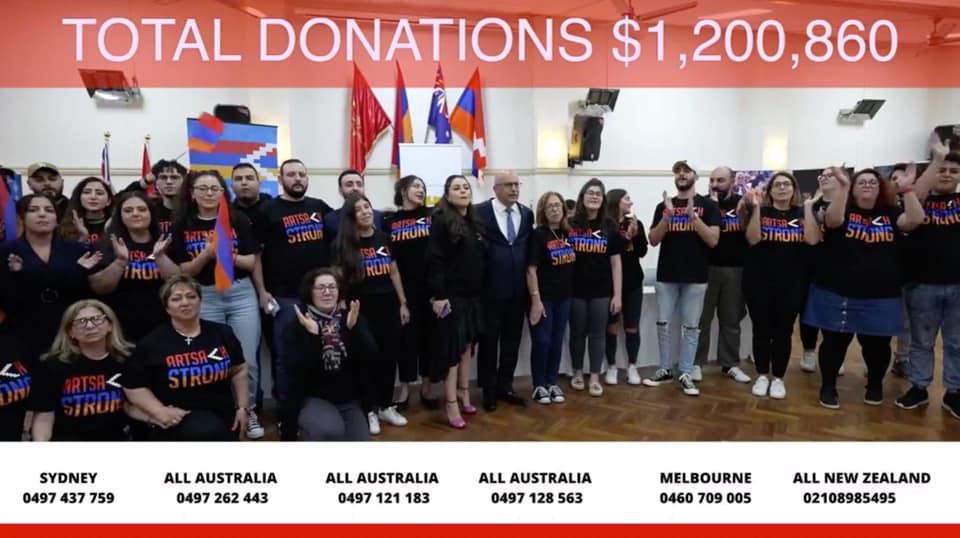 SYDNEY: The Armenian communities of Australia and New Zealand rallied to raise $1.2 million in the #ArtsakhStrong Facebook Telethon, bringing the total downunder contribution to the All-Armenia Fund's Artsakh Appeal to over $2.6 million.
The telethon, hosted by Armenia Media Inc. and under the auspices of the Office of the Artsakh Republic in Australia and the local chapter of the All-Armenia Fund, was held over eight hours on Sunday 25th October 2020.
The program, hosted by Nora Sevagian and Movses Injejikian, included appearances from Armenian-Australian and Armenian-New Zealander organisations and business leaders, as well as representatives of the Greek-Australian and Assyrian-Australian communities – all of whom contributed to the humanitarian appeal to assist the indigenous Armenians of the Republic of Artsakh (Nagorno Karabakh), currently under attack by Azerbaijan and Turkey.
From Australia, there was active participation from Sydney, Melbourne, Canberra, Adelaide and Perth.
The Armenian Relief Society of Australia - Sosseh Chapter and Hyecorp Property Group each contributed $100,000 each in a dollar-for-dollar matching call, which were both achieved by the contributing communities, while Galstaun College donated $65,000 through its fundraising efforts.
Many contributions in the tens of thousands of dollars down to single digit donations were made on the night, to add to the significant contributions of the community since the attacks began on 27th September 2020.
In announcing the total collected, the Permanent Representative of the Republic of Artsakh in Australia, Mr. Kaylar Michaelian thanked the communities.
"Today, we have made our heroic compatriots of the Republic of Artsakh proud, and for that, I bow in respect of each and every one of you," Michaelian said.
Watch the telethon, which has so far attracted over 51,000 Facebook views, by
clicking here
.