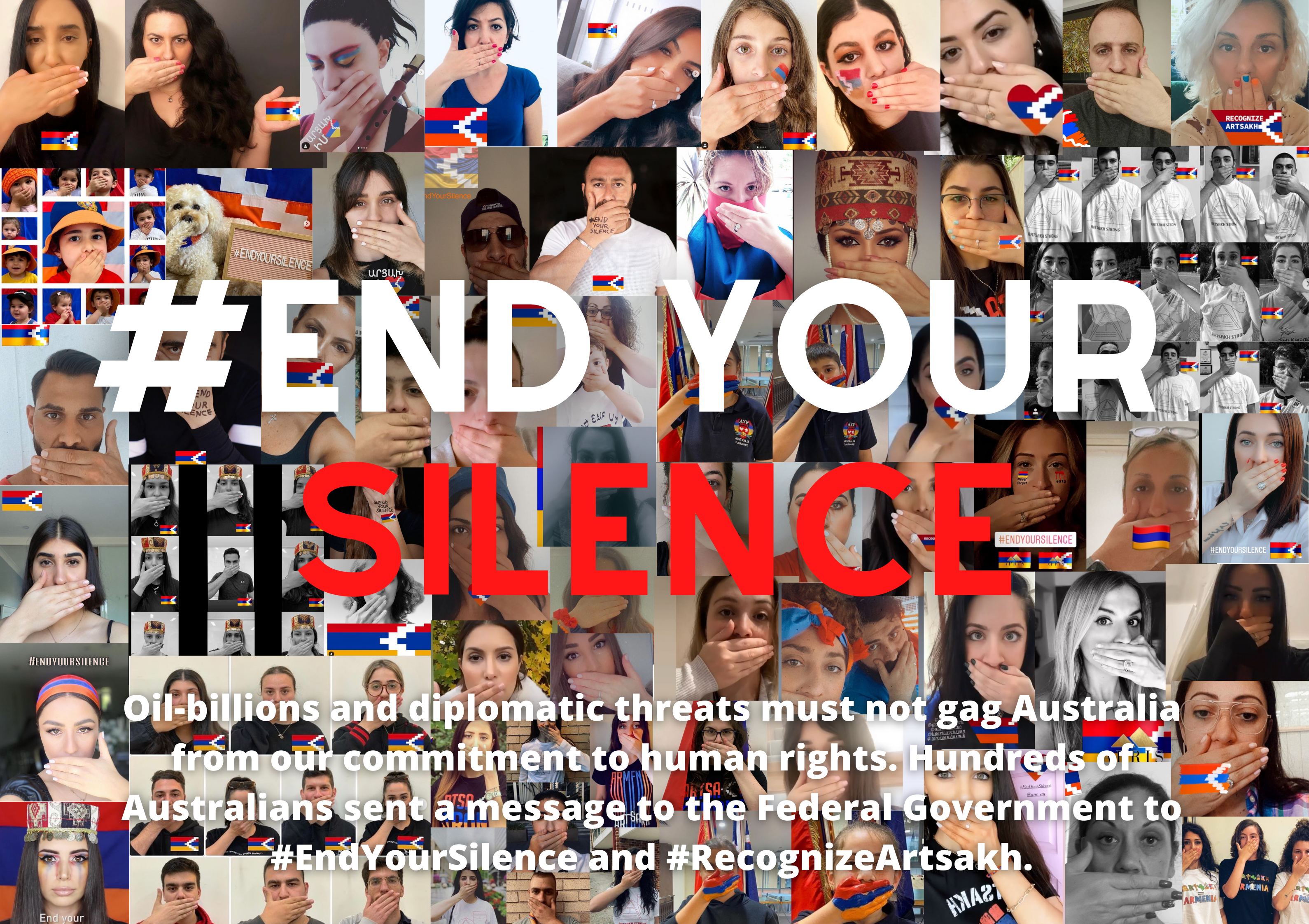 SYDNEY: Hundreds of Australians have participated in the Armenian National Committee of Australia's (ANC-AU) #EndYourSilence social media campaign, aimed at spreading awareness about Azerbaijan's attacks on the Republic of Artsakh and to call out the Federal Government and national media for their "death-ening silence".

On 27th September 2020, Azerbaijan – backed by Turkey who deployed Islamist Jihadist terrorists and provided air support – launched a wide-scale offensive along the entire Artsakh border. The subsequent 44 days saw debilitating attacks on Artsakh's military and their civilian towns, made more devastating by Baku's use of criminal weapons – including white phosphorus and cluster munitions, strikes on churches, schools, hospitals, civilian homes. This has all led to Azerbaijan's invasion of the indigenous Armenian nation, as Russia brokered a one-sided ceasefire agreement.

During the attacks, the Australian media compromised truth for false equivalence of the roles played by the aggressors and their victims, while the Australian Government is yet to make a truthful statement that satisfies the Armenian-Australian community, who are calling on Canberra to recognise the Republic of Artsakh as #RecognizeArtsakh is the only lasting solution to the Nagorno Karabakh conflict.

The #EndYourSilence social media campaign saw members of the Armenian-Australian community standing in solidarity with Armenia and Artsakh by taking photos with their hands covering their mouths, protesting the oil-billions and diplomatic threats that gagged Australia from their commitment to speak out for human rights.

By sharing the campaign on social media platforms, along with the infographic of facts and instructions outlining the purpose of the campaign, it allowed for greater use of voices to reach as many people as possible.

"Seeing the silence of the media and government was the main driver behind this campaign," said Selina Abram. "We hoped to change the narrative, bypassing the media and taking our message straight to the Australian public through the use of social media."

"The pictures prompted countless conversations and helped us get the message out at a grassroots level. Raising money for the homeland was the cherry on top."

Abram is a senior marketing professional with 14 years' experience working across a variety of brands, verticals and within B2B and B2C environments. With a passion and focus on digital channels, her strategic thinking was a driving force behind the creation of the campaign.

The ANC-AU will be donating $5 to the All Armenia Fund for every post or story that was shared using #EndYourSilence during the campaign, bringing their total contribution to the Artsakh Appeal to $40,000, which includes ticket revenue from their 2020 Gala.