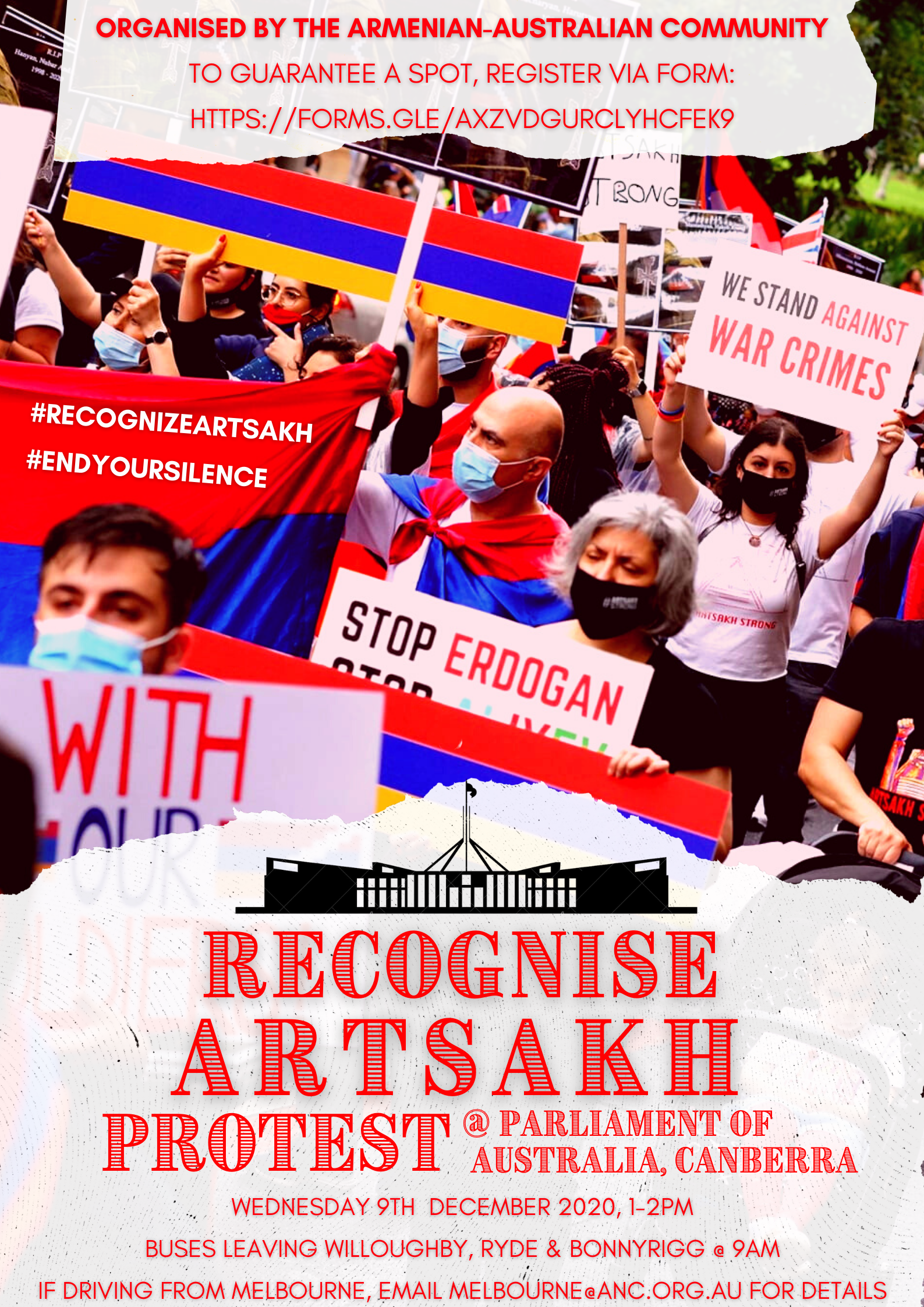 CANBERRA: Hundreds of Armenian-Australians from Sydney and Melbourne will travel to the nation's capital to protest in front of Federal Parliament House, calling for Australia's recognition of the Republic of Artsakh.

Specifically, the protest will call on Australia's Parliament and Government to recognise the human rights to self-determination of the indigenous Armenians of the Republic of Artsakh, currently under occupation following 44 days of war crimes by Azerbaijan, backed by Turkey and Islamist Jihadi mercenaries.

"Australia failed to condemn the attacks on the Armenian Republic of Artsakh, thereby enabling the Aliyev dictatorship to invade our ancestral homeland and cause carnage against its civilian population," said Armenian National Committee of Australia Executive Director, Haig Kayserian.

"The Armenian-Australian community is now witnessing videos of Azerbaijanis torturing Armenian prisoners of war, their desecrating of historic Armenian cultural and religious sites in the occupied territories, and an attempt to memorialise a ceasefire deal that compromises Armenia's long-term survival amid a growing humanitarian crisis of displaced peoples."

"Australia's silence is inexcusable. We call for the recognition of the Republic of Artsakh's right to self-determination, as this is the only way to bring peace and security to Nagorno Karabakh," Kayserian added.

The protest will be taking place on Wednesday 9th December 2020, which is symbolically the International Day of Commemoration and Dignity of the Victims of the Crime of Genocide.

The neo-Ottoman pan-Turkic expansionism that motivated the attacks on Artsakh drew comparisons with the Armenian Genocide, and attracted criticism of Azerbaijan by the International Association of Genocide Scholars and the Australian Institute for Holocaust and Genocide Studies.

The protest will take place next Wednesday 9th of December 2020, 1-2pm in front of the Australian Federal Parliament, Canberra. Buses and other transport are being organised from Sydney and Melbourne.

To confirm attendance, COVID restrictions mean you must please fill out the form by clicking here. The first 500 registrants will be accepted.

The organisations leading efforts for the Protest include the Diocese of the Armenian Apostolic Church of Australia, the Armenian Catholic Church of Australia, the Armenian Evangelical Church of Australia, the Social Democrat Hunchakian Party, the Armenian Revolutionary Federation, the Armenian Democratic Liberal Party, the Armenian General Benevolent Union, Hamazkaine Cultural and Educational Society Australia, Nor Serount Cultural Association, Homenetmen Scouting and Sporting Association, Tekeyan Cultural Association, Armenian Relief Society, Armenian Missionary Association of Australia, Armenian Dkhrouni Youth Association, AGBU Youth, Armenian Youth Federation and the Armenian National Committee of Australia.