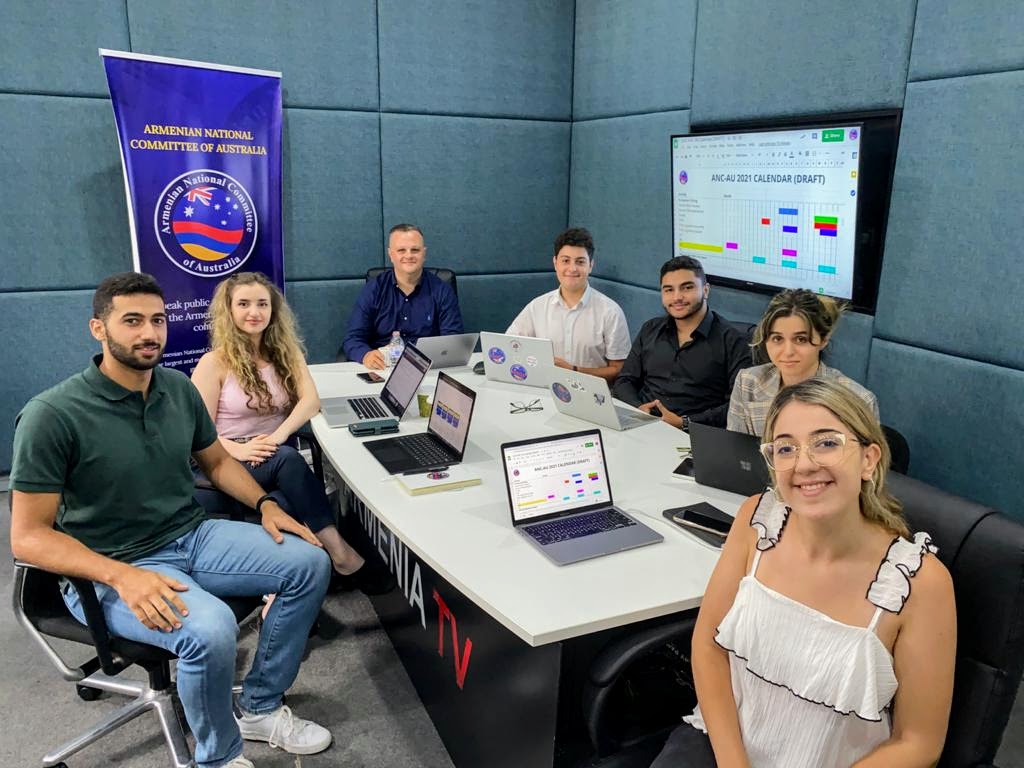 SYDNEY: The Armenian National Committee of Australia has announced updates to its office line-up for 2021, with its youthful and energetic team prioritising the recognition of the rights to self-determination of the Republic of Artsakh along with other issues of importance to the Armenian-Australian community.
Haig Kayserian resumes in his role as the Armenian National Committee of Australia's (ANC-AU) Executive Director. Sarine Soghomonian assumes the title of Executive Administrator to lead the organisation's largest team of Administrators to date, which includes Hrant Boujikian, Siranush Massih, Mathew Mikhail and Tamara Kotoyan.
Along with Office Intern Areg Grigorian and other volunteer interns, the aforementioned team will share the load to ensure the office of the Armenian-Australian community's peak public affairs committee is maintained by multiple people on every working day.
"We are humbled by the unprecedented support of our Partners, Friends and the greater Armenian-Australian community during this time of immense importance, which has ensured our team will be able to dedicate a record number of professional hours to defending the Armenian Cause alongside our other employment and education priorities," said ANC-AU Executive Director, Haig Kayserian.
"The Artsakh War of 2020 was as devastating in its outcomes as it was in motivating a new generation of young Australian activists of Armenian origin, and this restructure allows us to ensure more of these young warriors are employed to fulfil their desire and duties to advance our community's advocacy priorities in 2021," Kayserian added.
In other news, Vache Kahramanian takes on the role as Chair of the ANC-AU National Board, with his predecessor Khajaque Kortian moving into Deputy Chair and General Counsel. They are complemented by Greg Soghomonian, Garineh Torossian, Sassoon Grigorian, Gisele Kapterian, Hovig Melkonian, Stephen Abolakian, Haig Kayserian and Hratch Loussikian.
At their annual Planning Meeting, the ANC-AU decided its priorities will for 2021 will be led by a renewed drive for recognition of Artsakh's right to self-determination, beginning with immediate issues deriving from the one-sided ceasefire that resulted from Azerbaijan and Turkey's 44 days of hostilities in Nagorno Karabakh.
"It is expected that Australia joins in calls for Baku to return Armenian prisoners of war and their exit from the occupied territories that are indigenous to the people of Artsakh, who declared their right to self-determination and independence in 1991," said ANC-AU Chair, Vache Kahramanian.
"We will also be calling for Australia to assist the thousands of injured and displaced Armenians following Azerbaijan's attacks," Kahramanian added.
ANC-AU will continue its activities to achieve national recognition of the Armenian, Assyrian and Greek Genocides through the Joint Justice Initiative, which it launched alongside the Assyrian Universal Alliance - Australia Chapter and the Australian Hellenic Council.
The organisation's outreach initiatives, including through the Armenian Professional Network (APN), ANC-AU Youth Advocates, ANC-AU First Responders, the ANC-AU Internship Program and more exciting opportunities to engage with Armenian advocacy, will continue with renewed vigour as COVID-19 is expected to be in more manageable territory in 2021.
"We invite all Armenian-Australians to join our efforts to assure the best possible grassroots-driven representation of the Armenian Cause, and our team of Administrators stand ready to usher your activism in the right direction," said ANC-AU Executive Administrator, Sarine Soghomonian.
VIDEO ABOVE: New team talks through some of the Armenian National Committee of Australia's priorities for 2021