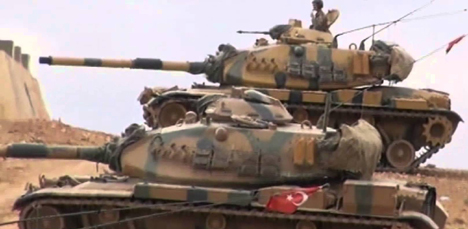 ARA News -  Turkey's military forces have captured 845 km² of territory in northern Syria after starting military operations against the Islamic State (ISIS) and the Kurdish forces in Syria's Aleppo province, officials said.
On August 24, 2016, the Turkish army and allied Syrian rebels launched a military campaign in northern Syria under the banner of "Euphrates Shield".
Turkey and allies first captured the city of Jarablus from ISIS without a fight, according to local sources. Then the Turkish army and allied rebels headed to other areas of Aleppo's northern countryside and took over the town of al-Rae and a number of nearby villages. Backed by the US coalition, Turkey has also forced the Kurdish-led Syrian Democratic Forces (SDF) to withdraw to the eastern bank of the Euphrates river, after the SDF expelled ISIS militants from the jihadi border pocket of Manbij.
The Turkish central command said on Monday that their forces have captured 845 square kilometres of territory in northern Syria.
"The progress comes within the framework of our anti-terrorism campaign to secure Turkey's southern border," it said, adding that the Turkish army and Turkey-backed rebels have destroyed 516 ISIS positions within 20 days.
However, activists said that the Turkish forces have captured areas from ISIS without a fight.
"Turkey took over Jarablus city within hours, and we've seen no resistance from ISIS fighters there," local media activist Sadoun Hamdan told ARA News.
"When the Turkish forces advanced towards al-Rae town north of Aleppo, sporadic clashes took place for a couple of hours and then Turkey announced the liberation of the area from 'terrorists'," Hamdan said. "Whereas the Syrian Democratic Forces (SDF), supported by coalition airstrikes, needed more than two months to liberate Manbij from ISIS. This has raised suspicions over what exactly Turkey means by 'terrorists'."
In the meantime, the Kurdish military leadership in northern Syria accused Turkey of bombing SDF positions instead of fighting ISIS.