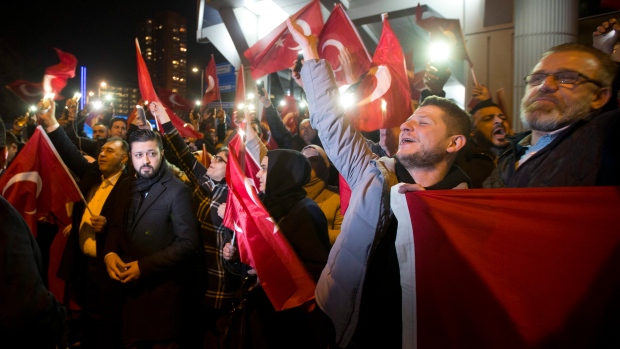 AMSTERDAM/ANKARA (A.W.)—A diplomatic feud has erupted between the Netherlands and Turkey and protests have sparked in the two countries after the Netherlands denied landing rights to Turkish Foreign Minister Mevlüt Çavuşoğlu over the weekend.
"After a public call to Dutch nationals of Turkish origin to turn out in great numbers for a public gathering with Mr Çavuşoğlu in Rotterdam on Saturday 11 March, the government has concluded, public order and safety are at risk," read a statement posted by the Dutch Foreign Ministry.
Turkish President Recap Tayyip Erdogan has been attempting to rally the estimated 4.6 million expatriate Turks living in western Europe to vote in an upcoming Turkish referendum. If passed, the referendum would transform Turkey's parliamentary system into a presidential one, giving Erdogan more power.
Germany, Austria, and Switzerland had also denied landing rights to the Turkish foreign ministry, citing security concerns as well. Turkish Foreign Affairs Minister Mevlut Cavusoglu slammed German authorities at a rally of Turkish citizens in the residence of the Turkish Consul-General in Hamburg on March 7. Cavusoglu accused Berlin of pressuring Turkish citizens in Germany and obstructing campaigns supporting Erdogan.
The Dutch also barred the landing of Turkish Family and Social Policy Minister Fatma Betul Sayan Kaya on March 11, according to the Dutch Foreign Ministry.
As a result, protests have broken out in both countries. Turkey also summoned their Dutch envoy back to Ankara and told the Dutch ambassador—who is presently on a leave—that he does need to return at this time.
"To protest this decision by the Dutch Government, the Charge d'Affaires of the Embassy of the Netherlands in Ankara was summoned to the Foreign Ministry," read a statement by the Turkish foreign ministry. "We informed that we did not wish the Dutch Ambassador who is presently on leave outside of Turkey to return to his post for some time."
According to Turkish state run news, Dutch diplomatic missions in Ankara and Istanbul have also been closed off due to security concerns. Meanwhile, President Erdogan accused the Netherlands of acting like a "banana republic" instead of a member of the EU and called on sanctions while speaking at a mass ceremony on March 13.
"I call on all the EU institutions and all the international organizations that pursue a mission to uphold democracy, human rights and rule of law to raise their voices and even impose sanctions on the Netherlands," read a statement on the President's website.
Erdogan also accused the Dutch of Nazism at the International Goodness Awards on March 11 in Istanbul. Dutch Prime Minister had said that Erdogan's comments about Nazism was "unacceptable" and has demanded an apology.
Amid the diplomatic feud, Danish Prime Minister Lars Løkke Rasmussen postponed a meeting with his Turkish counterpart, according to several sources.