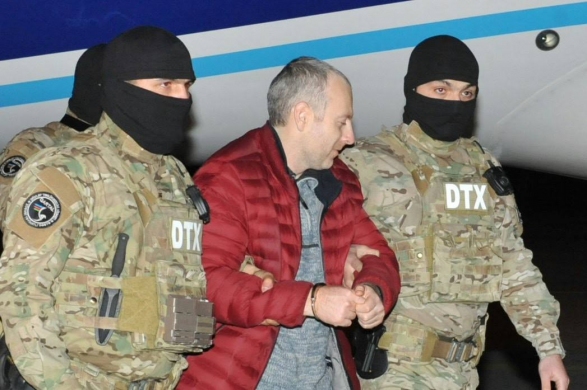 BAKU, Azerbaijan (A.W.)—Russian-Israeli blogger Alexander Lapshin, who was arrested last December and sentenced to three years in prison on a charge related to his 2011 and 2012 visits to Artsakh, was pardoned by Azerbaijani President Ilham Aliyev earlier today.
According to several reports, Lapshin attempted to commit suicide in protest against his delayed extradition to Israel. Ali Hasanov, an Aliyev-aide indicated that the prison guards prevented the imprisoned bloggerfrom taking his own life and that he is not receiving medical treatment. No futher details about Lapshin's condition were released.
On July 20, an Azerbaijani court sentenced Lapshin to three years in prison on a charge related to his 2011 and 2012 visits to Artsakh. The court ruled that Lapshin illegally crossed Azerbaijan's internationally recognized borders when he traveled to Artsakh through Armenia in 2011 and 2012. The court cleared him of charges of making "public appeals against the state," a crime punishable by up to eight years in prison in Azerbaijan.
During his trips to Artsakh, Lapshin provided detailed accounts on his Russian language blog. He was detained in the capital city of Belarus, Minsk, after Azerbaijan issued a warrant for his arrest. The Belorussian authorities then extradited him to Azerbaijan in February.
The extradition, which was criticized by Armenia and Russia, was also condemned by international watchdogs, including Amnesty International and the Committee to Protect Journalists. Amnesty had demanded the immediate release of the blogger, saying that he was at risk of torture and an unfair trial. Azerbaijan authorities rejected those claims.
Lapshin pleaded not guilty to the accusations leveled against him and denied "forging criminal links with Armenian authorities" in his final statement at his trial on July 19.